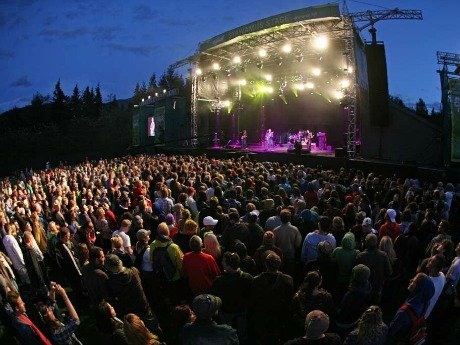 By Gagandeep Ghuman
Published: Aug. 18, 2012
LIVE at Squamish has announced more acts to its already jam packed line up.
Brett Dennen and LP have been added to the acts, bringing some 'much needed chilled vibes' to the festival, said LIVE at Squamish organisers in a press release.
With this new addition, there will be 31 total acts in the festival dubbed as the 'happy times in a big field with great music.'
LIVE at Squamish has also created a whole new venue at the festival called The Wood Shed.
New this year, the area will open at dusk and be thumping late into the night with the hottest beats in an underground nightclub environment.
The Wood Shed will also house the Silent Disco during the day and be filled with the house beats of Hebegebe and Kevin Shiu on Saturday.
Legendary DJ Mark Farina will be providing the party alternative to City & Colour on the Garibaldi Stage on Sunday night.
LIVE at Squamish lovers can also indulge in a glamping experience.
Exclusively located behind the Garibaldi Stage, Glampers receive their own private entrance to the festival, access to hot showers, priority and in and out privileges and exclusive programming within the campsite. 
Glamping passes also include weekend parking for one vehicle, as well as automatic entry into the first ever tent décor competition. You can also decorate your tent for the chance to win $500 !
Aaron Alexander of BC BuzZ previewed the LIVE at Squamish festival. Here is his report.
Below is the complete list of musical acts and djs.
The Tragically Hip
City and Colour
Chromeo
Lights
Mother Mother
Sheepdogs
The Airborne Toxic Event
Wintersleep
Kathleen Edwards
Charles Bradley
Beats Antique
Brett Dennen
Plants & Animals
LP
The Rural Alberta Advantage
The Pack A.D.
Current Swell
A Motown Tribute to Nickleback
Rich Hope
The Matinée
The Hairfarmers
Wake Owl
Humans
Washboard Union
Maurice
No Sinner
Good For Grapes
Rococode
Yes Nice
Harpoonist and the Axe Murderer
Facts
DJ's:
John Morgan
Andy Chambers
Kristian Littman
Maurice Ryan
Henry Mah
Hebegebe
Kevin Shiu
Vinyl Ritchie aka Wicked Lester