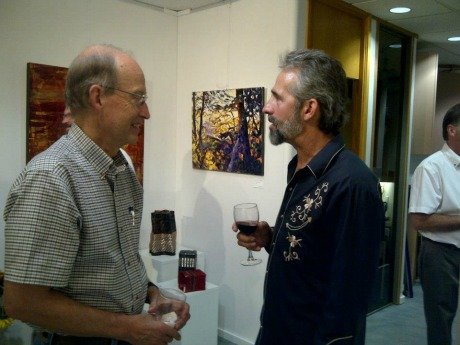 By Zoe Evamy
Published: Sept. 30, 2012
Portico Gallery has introduced a new show of 21 paintings by internationally recognized Yukon artist Halin de Repentigny.
It has caused quite a buzz amongst local artists, art appreciators and collectors alike. A good number of art lovers turned out on Sept. 19 for the artist's reception, where they got a chance to know Repentigny.
A gracious and friendly man, Halin guided his guests around the gallery answering questions and explaining his artistic process.
Halin de Repentigny has been painting for over 40 years, and his maturity and confidence is evident in this exhibition.
Halin's new paintings, many of which have been produced specially for this show at Portico, are bold and energetic. Although he works predominantly with a palette knife in these pieces, his art shows no sign of overworking.
From northern landscapes to Argentinian seas, from Wild West horses to sled dog teams, Repentigny uses his brush to convey the essence of what he sees with vivid colours and textures.
His textures are sophisticated and luxurious with a jewel like quality; the effect is that of multiple layers of coloured glass applied to the canvas.
"I'm getting older, and my work is becoming more adventurous. I feel the freedom to express myself in different styles," he said.
Originally from Montreal, Halin has been an outdoorsman most of his adolescent and adult life. Every year he would take his family into the Northern Canadian wilderness for months at a time.
He would build a cabin for them to live in and provided their food through hunting and trapping.
He would make hundreds of drawings during those months which he would later use as reference for his large paintings.
These days he says he prefers to spend all his time painting and  lives in Dawson City in the Yukon and in Patagonia, Argentina.
"As I travel and document South America, I'm finding new colours and forms," he says.
Towards the end of the evening, Portico owner Linda Bachman opened a bid to auction an original drawing which Halin had made earlier in the evening.
It depicted one of the trapper cabins he had built on one of his wilderness trips and a food cache hut built on tall stilts.
The show at Portico Gallery is open ended and will be on display through the Winter and into Spring of 2013.
He is an, meaning he is recognized by other artists as well as collectors for his talent and his artistic integrity.