By Anne Bright
Published: Nov. 3, 2012
The damp weather couldn't keep jivers from dancing the evening away at the Brackendale Art Gallery (BAG) on Saturday, October 20 for another "Village Music at the BAG" series.
With doors opened wide, patrons of all ages corralled into Thor Froslev's cozy fireplace lit gallery to behold the talents of the regionally named Sea 'T' Sky Big Band.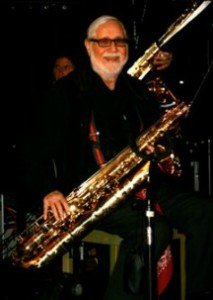 There were visitors from as far away as Chilliwack and the Okanagan, all to tune into the fairly new band. Sea 'T' Sky Big Band has 16 local players, and one vocalist, ranging in age from 18 to 81.
The youngest member, Naiomi Lu, plays the trumpet and the oldest, retiree Dick Grooms, plays the saxophone.
They deliver a fun mixture of tunes ranging from the 1930's to the songs of today. At the BAG, band members seem to enjoy themselves as much as the audience.
Michael Perkins, director and trumpeter, encouraged the audience to take over the dance floor, poking them by saying "this is the quietest audience I've ever seen".
Whether listening or dancing, many were simply preoccupied with watching the flash of brass and taking in classics such as All of Me and RESPECT, belted out by vocalist Eliza Carter.
A couple waltzed softly to Georgia on my Mind, celebrating their 50th wedding anniversary.
Later in the evening, a father and daughter duo burned it up on the dance floor to Jump, Jive, an' Wail. The band rehearses twice a week at Howe Sound Secondary School.  Michael is enthusiastic about the talent that resides in Squamish and works tirelessly to showcase it.
Although it can be a challenge to find local venues to play, Michael said he was grateful for Brackendale Art Gallery.
Sea 'T' Sky Big Band plays for free.  The tickets they sell go towards causes such as the new school drum kit, scholarships for students and HSS' music programs.
The band will be playing at Crave – Dining for Dignity, an event presented by the Squamish Helping Hands Society.
Those interested in learning more about Sea 'T' Sky Big Band, including how to join the band, are encouraged to contact Michael Perkins at 604-788-9082 or mwperkins@shaw.ca.
All you require is an instrument and a passion for playing.