Corin Noble and Rebecca McCarthy grimace in jest about the Visa fees increase. The decision to hike visa fees would adversely affect small businsesses in an already tough economy, CFIB says. (Photo by Gagandeep Ghuman)
By Gagandeep Ghuman
Published: Nov.3, 2012
When it comes to watching costs, Rebecca McCarthy is no different than any other small business owner.
The owner of The Coffee Tree Café, McCarthy keeps a hawk eye on expenses, trying hard meanwhile to attract new customers to her coffee shop in Valleycliffe.
The profit margin on coffee and muffins might be low, but the overhead costs aren't.
Next April, McCarthy–and small business owners like her across the country– must brace for a new cost of doing business.
Visa Canada will increase the fees to process credit card purchases by one-third for all businesses, big or small.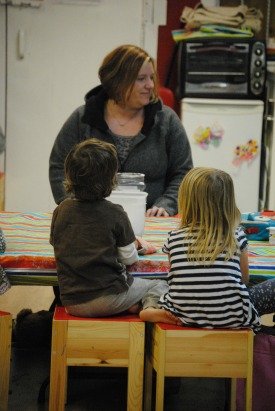 Visa also plans to introduce a new 'uber-premium' card for top spenders, which the banks will issue in the fall of 2013.
The 'uber-premium' card will also carry an uber-high transaction fees for merchants, higher than the expensive Visa Infinite card.
Foreign tourists might not excite small business owners as much next year; Visa also plans to increase the fees to process foreign-issued cards.
McCarthy says she hasn't heard an official word from Visa Canada yet, but is concerned about the increased cost.
"It's not good for my business, and I don't want to pass this on to my customers either," she says.
"It just isn't fair."
Dan Kelly agrees.
The president of Canadian Federation of Independent Business (CFIB) says the proposed changes come at a time when most small businesses are struggling to make ends meet in a tough economy.
"Unfortunately, Visa appears to have ignored the huge negative impact premium credit cards had on small merchants across Canada," Kelly says.
Kelly says the increase would affect small merchants, but it would directly hit hotels, restaurants, and retailers who accept foreign-issued cards.
Meanwhile, Visa Canada says the fees are necessary to update its network, and advance electronic payments.
"Ongoing investment is required in our network to ensure the exceptional reliability, speed, innovation and security that consumers, merchants and issuers have come to rely on," the company said in a statement emailed to CBC News.
Kelly is encouraging consumers to pay with Interac debit or cash to help small businesses.
Michelle Pontini carries no debit or credit card machines at MishMash Play & Learn on Government Road.
"It's never been much of an issue for me," she says.
Pontini uses a punch-card system to encourage her customers to make a payment for four or five visits.
On the occasional time a customer can't pay her, she reverts back to a more communal method of doing business.
She asks them to pay it next time they come to use MishMash programs.
"I know them, and I know they will honour it," she says.
According to Competition Bureau , an independent agency that protects Canadian businesses and consumers, credit card fees in Canada are among the highest in the world.
The fees costs Candian consumers $5 billion every year.