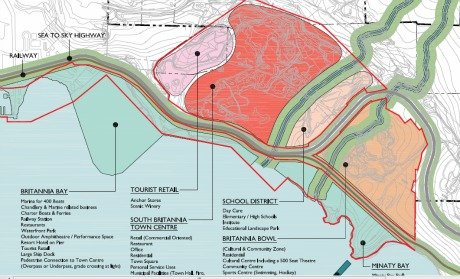 By Gagandeep Ghuman
Published: Nov. 28, 2012
Three hotels, a winery, a supermarket, 3,000 residential units, schools, parks and light industry:
On Tuesday, Nov. 26, SLRD staff gave the board a glimpse into ambitious, but preliminary plans, for the Britannia Beach property also known as Makin lands.
Taicheng Development Corporation, a Chinese real estate firm, paid $31.5 million to buy the Makin lands in a court ordered sale this March.
Initially, Taicheng proposed a 4,000-unit residential development, but has now scaled it back to 3,000 units.
Taicheng is proposing that the majority of these residential units be multi‐family, including townhouses, stacked townhouses and apartments.
It's proposing 86 single-family detached homes, nearly 1,800 townhomes, and 1330 apartments.
The appropriate building height is being decided, although Taicheng is seeking flexibility to allow buildings up to 18 storeys.
The proposed 3,000 residential units are 2,000 more units than what OCP currently supports.
SLRD has retained the services of an independent real estate market consultant to provide an objective opinion on market viability.
Taicheng is proposing up to approximately 200,000 sq. ft. of mostly retail commercial floor space, which includes a mixed use (residential over commercial) village core and waterfront commercial.
The plans include a medium‐size supermarket that Taicheng is proposing to build in an early phase of the development.
Taicheng is proposing up to three hotels on the site, two of which would be on the waterfront and one in the village core.
There are plans for a winery, which would produce and sell wine from grapes grown elsewhere.
Taicheng also wishes to set aside a few acres on the site for potential light industry use. Its plan is to seek "green" industrial businesses.
The developers also plan to add two more parcels of land to its South Britannia plan, adding 30 acres on which single family homes and townhomes are planned.
A major marina capable of accommodating vessels of various sizes, possibly including small cruise ships, is also being explored.
At a full build‐out of 3,000 residential units, the population in this development could range from 7,000 to 8,000 units.
Examples of some community facilities being proposed two community centres, a cultural centre, a fire hall, and civic office space.
Taicheng is also proposing a number of public parks as part of its development. Some of these park areas have been determined in some detail by Taicheng, such as a trail and park system spanning the entire waterfront of the property.
Taicheng is also dealing with water issues.
SLRD staff noted that there is water supply capacity for only 300 units, so in order to provide for 3,000 units, it will be critical for Taicheng to prove out their water supply system.
—
Editor's NOTE: To read the full report on what Taicheng plans to do in Britannia Beach, pick up the free print edition of the Squamish Reporter on Friday.
The Squamish Reporter print edition will now be a FREE monthly magazine, with 5,000 copies distributed across town, in mailboxes, coffee shops, offices, etc.