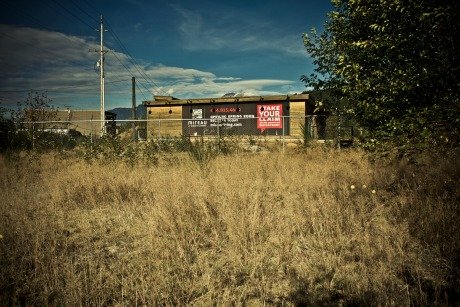 By Gagandeep Ghuman
Published: Dec.8, 2012
The district is close to purchasing a portion of BC Rail properties in town, the Reporter has learned.
It's not clear how much land area owned by BC Rail will be acquired by the district.
The district, however, has a $4 million line of credit from the province to buy the BC Rail land.
There is no cost to the Squamish tax payer, but the district gets to acquire a strategic property asset.
According to information obtained by the Reporter, some portions of BC Rail land along Loggers Lane might be acquired by the district.
The source confirmed the district doesn't plan to rezone the lands from industrial to residential and sell them to a developer.
Instead, the land would be kept by the district as a strategic investment.
In 2009, the council had rejected BC Rail plans for a four-storey mixed use development along the Mamquam Blind Channel.
BC Rail wanted council to reconsider rezoning the 3.96 acres of land that makes up Blocks 42 and 43 in the downtown.
The change in zoning from industrial to residential would have resulted in a considerable benefit to the BC Rail.
Coun. Race was one of those opposed to the development.
He was quoted in the Squamish Chief newspaper as saying that the 212-unit development would blocks open spaces.
"What you get is a feeling of claustrophobia because you are surrounded by these buildings," Race said at that time.
Speaking to the Reporter, Race said he still believes the development wasn't a good idea.
"It would have been a wall of buildings surrounding the blind channel," he said.
Relations between BC Rail and the district have said to be strained.
Coun. Race chose to remain tight-lipped on present BC Rail dealings with the district, but a thaw between both parties is hinted in a recent document.
The 2012 major projects plan talks about how negotiations with BC Rail are "90 per cent complete."
The Squamish Reporter had reported last week on how the district wants CN to 'release' railway downtown spur.
The district chose an ambiguous response to what it exactly plans to do.
Releasing the spur is one of district's 2012 major projects, and it's 10 per cent complete. The district is researching to determine what can be done with the closed spur line, said district spokesperson Kate O' Connell.
From North Yards to downtown Squamish, BCR owns 19 different plots of land scattered all over town.
It's an influential player: It owns 64 acres in North yard alone. It has been advertising several of its properties for sale.
The district certainly seems to be interested in purchasing one.