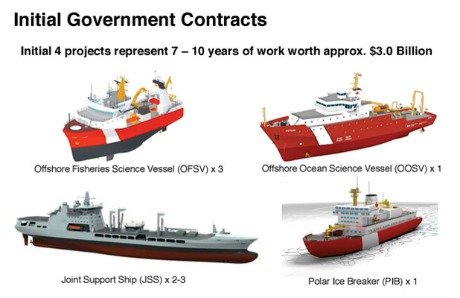 By Gagandeep Ghuman
Published: Jan. 27, 2013
We have the deep-water port, the rail link, and presumably unemployed people looking for stable, well-paying jobs once found on every turn in town.
Not too far away, one of the biggest ship building contracts is underway, with hundreds, if not thousands of jobs, waiting to be gradually filled.
The possibilities are tantalizing.
So, will we get a piece of the pie? Yes and no.
Yes, if we pitch ourselves as a bedroom community, an Eden after a hard day of toil.
No, if we imagine ourselves as a place where future Seaspan workers will be trained.
Our council has wallowed in that thought for a while, but their efforts seem to be missing velocity.
Mayor Kirkham is having those discussions, or so he would like us to believe.  
At a recent economic development, Kirkham said the district was talking to Seaspan in the hopes of setting up a training facility in town.
"We have been in touch with them for a training facility in Northyards," he said.
Mayor Kirkham couldn't respond to questions asking for details about the talks by press time.
Seaspan, however, has decided on training facilities, and Squamish doesn't figure in those plans.
"We haven't entertained the idea of constructing another training facility, outside of what is established," said Francis.
Francis also said she is not aware of anyone contacting them from Squamish. 
"They need to book a time and have a serious discussion with us," said," said Kelly Francis, communications coordinator for Seaspan.
She said the newly opened IMTARC, the Industrial Marine Training and Applied Research Centre, in Esquimalt will train some of its work force.
The new centre will offer entry-level training and offer apprenticeship programs.
Besides IMTARC, Seaspan is also working with BCIT, etc for more traditional job requirements.
Squamish might have missed the boat on a training facility in town, but it can certainly benefit from jobs, she added.
At present, Seaspan is hiring for the leadership team, including technical manager, engineers, and even VPs.
Hiring for assembly line, production jobs will begin in the fall.
But the hiring would be gradual.
"People might mistakenly think we will go from 200 people to 3000 people in one fell swoop, but this is going to be more of an incremental change," Francis said.
Coun. Ron Sander was the first to point out the potential of Seaspan for Squamish.
He wrote a letter to the council when he was a municipal candidate.
After his election, he said he brought up the issue with Minister Pat Bell, Naomi Yamamoto, and other senior staff in Victoria.
But he also said ultimately, Seaspan has to decide whether it's a good business decision for them to locate their business here.
Meanwhile, Seaspan is embarking on a $200 million upgrade at the shipyard.
The overhaul will better enable Seaspan to deliver on the $8 billion shipbuilding contract with the federal government.
Seaspan has orders for seven ships, and it expects to quadruple its work force in the next four years.