By Gagandeep Ghuman
Published: Feb.9, 2013
As this is written, end credits roll for Highland Video rental store in Garibaldi Highlands.
Netflix and instant online streaming were giving change over-cues, but The End was rather anti-climactic for the store owned by the amiable Kyoung Choo, known simply as Mr. Choo.
It was Mr. Choo's health, not the creeping forces of technology, which forced him to close his video rental store.
After the cinema, it was the only place in Squamish where movies brought people together.
Here is the story, through images, of the last few days of the store where movies were neither fast nor instant, although you were sure to bump into someone you knew, or at least share a word or a smile with Mr. Choo.
Instead of Tom Cruise or Denzel Washinton, patrons were greeted with this poster announcing the closing sale, and a note from Mr. Choo: "It's with regret that we inform you that the Highland Video will be closing permanently on March.1, 2013"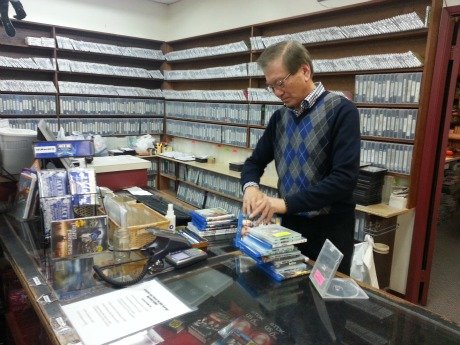 Mr. Choo bought the store in 2001, and lived off a business he says did well, despite the onslaught of Netflix, Youtube, and myriad other sites offering entertainment.
Mr. Choo said he could have probably found a buyer for the store, but unexpected health challenge didn't give him time to pursue the sale.
Mr. Choo found it hard to express his emotions in English.
"I feel really sad leaving this," he said, simply tabbing his heart with his fingers for emphasis. He hopes someone will try to start a movie rental shop in Squamish.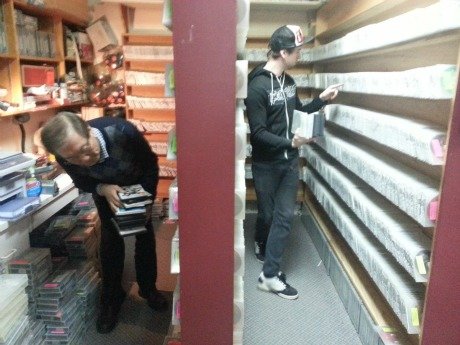 Mr. Choo and store employee Will Burton search for titles in the back room, where more than 12,000 movies are stacked.
Will Burton has worked here for two years, along with Mr and Mrs. Choo, and another long-serving employee, Nate Wadden.
 "It's sad, but this is a sign of the times," Will Burton said, his eyes and hands frantically searching for movies as Squamishers filled the store to grab movies for throw-away prices.
There are more than 3,000 VHS tapes at the Highland Rental store. If you own a VCR, or if you are nostalgic about the 80s, you can pick them up for free at the store.
As a token of thanks to his customers, Mr. Choo decided to sell his movies for the same price as the rentals.
By Friday evening, the store was nearly half-empty as eager cinephiles crowded the store, picking up their favourite movies for as low as $2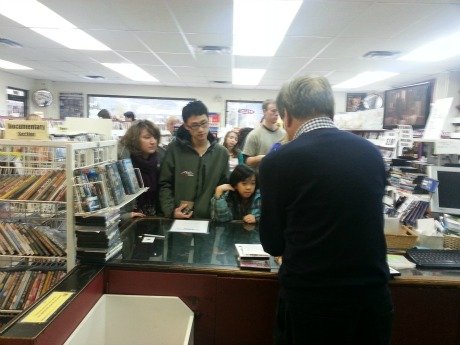 Squamishers line up to buy movies.
Movie rental business has taken a beating all across North America.
Dish Network, the company that bought a bankrupt Blockbuster, announced it would be closing 300 stores this year. Youtube is also working on a business model for online movie streaming.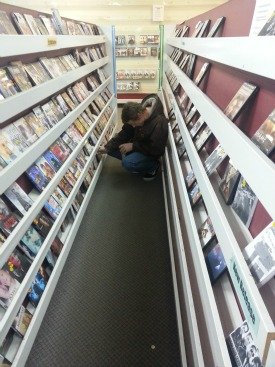 Squamisher Marcus Godecke rifled through the movies at the store.
Technology, he said, was making people less personal and distant from each other. He rued the the dwindling oppurtunities of entertainment in town.
"The outdoors is great, but we don't have a cinema or a bowling alley. What is left for activity here in Squamish?" he said.
Another patron, Michelle Crewe, said she came so often Mr. Choo knew her number by heart. She said she would probably end up getting a Netflix subscription.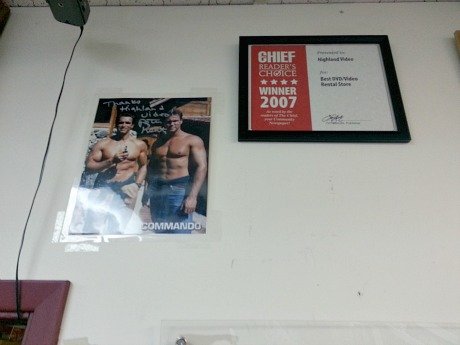 A barrel-chested Arnold Schwarzenegger and his Squamish ringer Peter Kent share the wall with Reader's Choice commendations the store received from the local paper.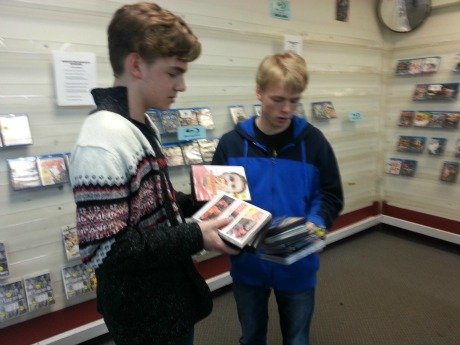 Brothers David and John Thomson debate which movies to buy. David Thomson said he came to the store every week to rent movies.
"It's depressing, he had a whole bunch of old classics and documentaries you can't find anywhere else" he said.  
Mr. Choo bids adieu to a customer.