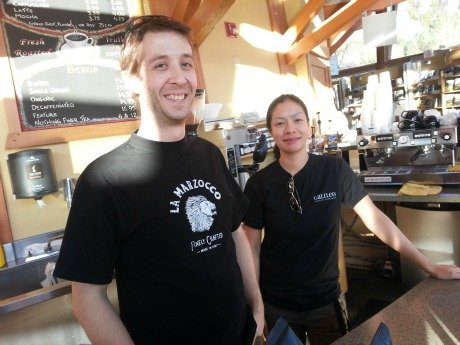 By Gagandeep Ghuman
Published: Feb. 16, 2013
So, did the white elephant transmute into a galloping horse?
The numbers show it might be getting there.
In 2012, the Squamish Adventure Centre saw 170,961 people come through the front doors.
That is an average of 470 people a day this year.
A steady stream of tourists and locals, including young moms with children in tow, are making a beeline for the centre.
Ian Sutherland says the numbers are a vindication of his council's vision for the building.
There may have been cost over runs, but Squamish there's a landmark building to draw people off from the Highway, he says.
The initial budget for the centre was $2.1 million, but total costs increased to $4.7 million by the time doors opened.
Cost increased for three reasons: inflation in building costs, unforeseen costs such as extensive foundation or geotech work, and improvements in the building beyond original scope.
Sutherland says the building provides great service for our town, despite some of its teething problems.
"We knew it would take some time to catch up, but I think it has helped change the image of Squamish," he says.
He said the centre has come a long way from the time when people would refuse to visit it just because of the negative image created around its costs overruns.
"Now, this is a meeting point for visitors and locals," he says.
Mike Chapman and Cheryl Tulsi can attest to that.
Both work at the Galileo Coffee shop in the centre, and say it has been a busy year for them.
The owner, Cara Barth, says the tourism business that pulls people into the centre is seasonal, but the coffee shop has done reasonably well.
More events at the centre and visits from the locals also boost business, she said.
Business has also been good for Nadine Bombardier, who runs the adventure centre gift shop.
"My sales have grown in the past two years," she says.
Bombardier says she noticed a shift last year.
"There were more events, more people visiting the adventure centre."
For Tyson Bell, the owner of Coast River Kayak, the adventure centre is a place where he can meet clients and plan the day ahead.
"We will also be using the meeting room for some of our courses that require some inside time," he said.
SSC employee Deana Wampler said adventure centre revenues are increasing over the years, although comparable numbers for past years could not be obtained.
A YWCA Job Options program held over a month in the spring and summer also helped shore up revenues for the adventure centre, she added.
 —
What's in the adventure centre?
Visitor Information (operated by the Chamber of Commerce)
Tourism Squamish
Squamish Store (operated by Tourism Squamish)
Chamber of Commerce
Sea to Sky Adventure Company (seasonal)
Squamish Sustainability Corporation
Galileo Coffee
Little Squids Play Area
Theatre
Meeting Rooms
Visuals Art Display
Private Offices for Entrepreneurs