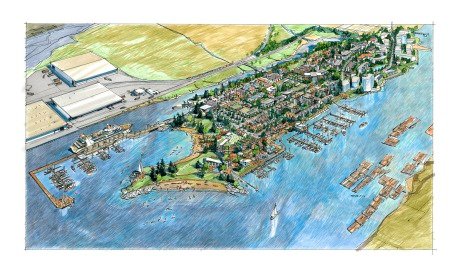 By Gagandeep Ghuman
Published: April. 13, 2013
A whopping $9 million SODC debt hangs like the sword of Damocles over our collective heads.
And as the first installment of $3 million approaches next year, the sword lowers a wee bit more to needle us.
But if the council and SODC movers and shakers don't want the community to be martyrs of that debt, we better hear within this year about the 'world-wide interest' in our Oceanfront jewel.
A canyon separates the best case scenario from the worst.
In the best case scenario, a developer comes, swoops up the land, the debt is paid off, and we live on the tax revenue spoils for years to come.
In the worst case scenario, the taxpayers are on the hook for millions of dollars in debt.
And a bourgeoning SODC debt can affect the district borrowing capacity, which is crucial to fund capital projects.
With SODC loan structure, the district needs to pay three million for the payment in 2014, another three million in 2015, and then five million the following year.
The amount a municipality can borrow is tied to its ability to pay.  A maximum of 25 per cent of the revenues can be used to service debt.
Add the SODC debt re-payments to what the district needs to pay annually, and it exceeds the 25 per cent minimum.
The district is allowed to borrow almost $90 million, of which it has already borrowed $32.5 million, not including SODC debt.
"When we have to come up with that money, it really eats into our borrowing power," says Joanna Greenlees, the district chief financial officer.
Such calculations don't seem to worry Coun. Doug Race too much.
Race says the money was borrowed on the strength of land value, the belief that the value of land far exceeds the debt.
The debt would be retired from the sale of land, he says.
In the event there is no sale, the district can use money from land sale or refinance the debt over a longer period of time.
Meantime, SODC manager Jonathan Silcock said it would take a few months before there will be any news to share on SODC.
The latest financial statements would be available sometime in June or July this year, he said.
The marketing push by SODC is generating worldwide interest in our Oceanfront site, the district's arm length corporation said in a press release in March. 
"We are very pleased with the level of interest in the Oceanfront project," said Bill McNeney, chair of the SODC Board.