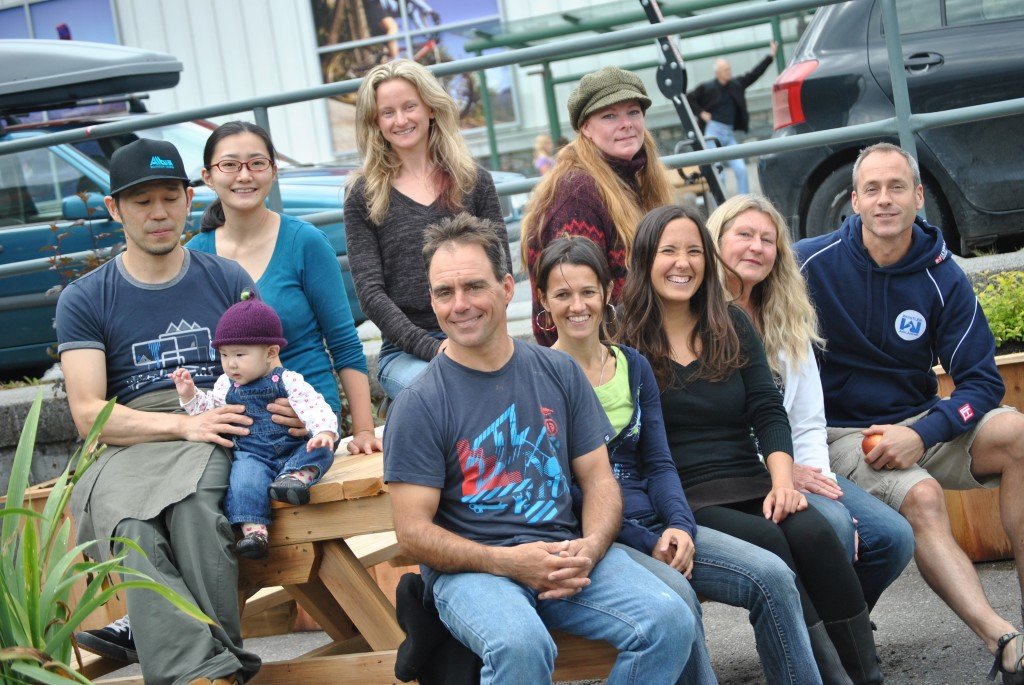 By Gagandeep Ghuman
Published: July 2, 2013
'Hey, I just watered those plants yesterday'
'Yeah, I went too'
'You guys did a great job'
Deborah McQueen and Tracey Saxby can hardly walk half a block in downtown Squamish before someone stops them to tell them about the 'fabulous job' they have done.
Slow down and look around: the fabulous job is on ample display on Second Ave and Cleveland Ave.
In less than a week, McQueen and Saxby, along with volunteers and local business owners, gave our town a glimpse of its possibilities as they went around sprucing up downtown Squamish.
Imagine Squamish: Building a better block can be seen all across downtown Squamish.
Volunteers weeded and swept the sidewalks along Cleveland Ave (between Winnipeg & Victoria).
They weeded and beautified the garden beds in front of Anna's Attic, along with two garden beds in the business complex on the corner of Second Ave and Pemberton.
They swept the RBC/Red apple car park and straightened all the concrete bollards, weed wacked the ditches on 4th Ave and removed the garbage.
Alongside, they encouraged downtown business owners to install hanging baskets, planter boxes, and in one case, helped the business owner, Ashley Green, set up a picnic table outside her business, Outwest Sports.
Outside the community police station, not long ago a stark desolate building, you will now find a bench and surrounding it, beautiful planters.
"I felt it was time for all of us to move forward and imagine Squamish in a creative way," said McQueen.
The motivation for Imagine Squamish came to McQueen at an economic development meeting of the district she attended last year.
The meeting ended with Coun. Patricia Heintzman showing a video of Jason Roberts, who started the Better Block project in Texas.
Better Block mobilizes the community members in a given area to build a kind of demonstration—a vision of what an underutilized area could be—by bringing pop-up stores, street furniture, green spaces, and vibrant outdoor events that provide a clearly superior alternative to the way things were before. 
McQueen left the meeting inspired.
She waited for a few months for the district to get the ball rolling.
One day, she met Tracey Saxby and mentioned the idea of applying the principles of Better Block to downtown Squamish.
As McQueen soon found out, she had found the right person.
Downtown, Saxby felt, had been ignored for a few years.
She would often walk past the corner of Second Ave and Pemberton, thinking the corner needs help.
"For more people to come to downtown Squamish, we need its core to be beautiful," Saxby said.
"And I wanted to help make it happen."
Although she had asked some friends to help her out, it was her postings on Facebook that gave the movement its momentum.
Before she knew it, she had her inbox full of messages from district officials, local media, and volunteers asking to join in.
Days later, she was at the corner of Second Ave and Pemberton, volunteers in town, helping business owners like Ashley Green chose planters and set picnic tables.
"Tracey took me for shopping, and I just can't believe volunteers came to help me out," said Green.
Although the Imagine Squamish was supposed to be a short demonstrative movement like the Better Block, Saxby and McQueen hope it's just the beginning.
They hope and they wish people will be inspired to beautify their streets and their neighbourhoods, be it Brackendale, Valleycliffe, or Dentville.
In downtown, both have more ideas they plan to put into place.
They plan to clean out the alleyway to the left of Random. They are also working with the district to create a community bulletin board using three posts on the corner of Cleveland and Winnipeg.
McQueen is also talking to Rotary club members to explore the possibility of art on the concrete boulder that support the clock.
The possibilities are endless, and they want you to join in.