By Anne Bright
Published: Aug 9, 2013
Oscar the Dachshund had many aliases; Dig-Dag-Do, Wild dog and Handsome Boy to name a few. 
To us, he was simply family.
Born in Costa Rica, he was every bit a Tico who loved chasing geckos and birds.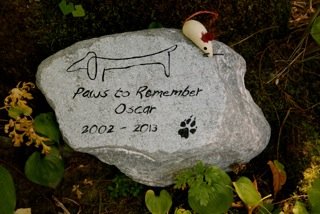 When he was moved to Squamish at the age of one, he quickly caught on to the abundant whiffs of bears, cougars, coyotes, squirrels, porcupines and snakes. 
With snout pointed high, he never passed up an opportunity to track a scent.  His size mattered not when he took chase.
Many a time you could find him, black and tan head cocked and transfixed at the base of tree, waiting for what may scurry down.
Oscar recently moved back to Costa Rica with his forever family.  Sadly, a deadly cane toad outmatched him on Monday. 
It was an ill-fated reminder that even the most skilled hunters can, and do, fall victim to the unthinkable.
Oscar was a character who will be remembered fondly by all who knew him.  When those paw pads hit the trails he was often greeted by families and canine pals. 
He became the pack leader and was always far ahead, scouting for action.  He would pause at junctions, look back, ensure we were okay, and then carry on. 
To him, there was no divide between human and canine.  We were one pack and his purpose was to lead and protect.  That was Oscar.
When the family had a baby Jack, Oscar took a sniff, planted a slobbery kiss on his cheek and quietly took a dignified backseat.
He embracing his new role; to protect this wee addition to his family and they became inseparable. Seated side-by-side on a dirt mound, the two could often be found excavating the same hole and enjoying the simple pleasures of each other's company.
When fellow hound Leroy joined the scene, Oscar quickly set about showing this new puppy the ropes. He embraced another role – that of mentor. 
Leroy worshipped Oscar, shadowed his every move, and was immersed in his teachings.  One early lesson learned was that Jack was welcome to dig in the same hole as Oscar but Leroy was not. 
He was taught to dig his own hole.  Lesson number two was bones were not for sharing.  Luckily, there was an abundance of bones for two. 
When it came to sharing a bed, both dogs lovingly embraced it as they slept entwined.
In mourning the passing of Oscar, we cherish the pockets of time and mental snapshots of so many precious moments not caught on film. 
What remains are memories of an unmatched spirit that shared 11 of his purest years with us. 
As a tribute, we have placed a special river rock at the base of a tree at Sunwolf, one of the many spots we shared with him.
Please come and visit often at Google Map to Sunwolf to paws and remember him while you enjoy the sounds, the smells and the simple pleasures of life. 
If you look up and spot a squirrel, you might even sense Oscar right there beside you.