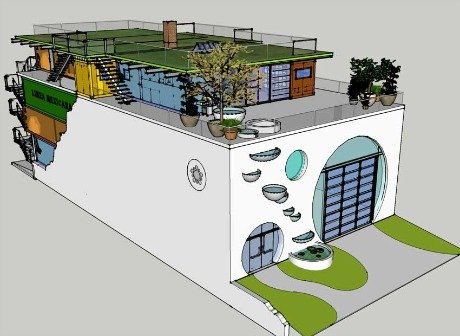 By Bronwyn Scott
Published: Aug. 17, 2013
Nearly five years, $40,000, and a whole lot of headaches later, William Wallace's dream of having his own live-in studio with gallery space for art shows still seems impossible.
Still, he is hanging in there.
For those who know about it, the project, also known as the Cargo House project, will be based out of a three floor building in downtown Squamish.
The project, conceived by Wallace as a performance/sculpture live/work studio will be made out of recycled cargo containers, cement, and other recycled objects.
Located on the edge of the Squamish estuary and the downtown core, the Sound Sanctuary plans to merges 'industrial urban living with a green biophillic approach'.
After three phases of development the finished project would have three floors.
The first floor will have an industrial welding section and a performance area, the second will be for storage, and the third floor will have residential units.
A living area on top of the structure will be Wallace's home.
The development also includes a 1,158-square-foot rooftop garden.
Water from the roof's irrigation would flow through an art installation on the front of the building.
The Cargo House had the support of the planning department when it was passed by the council in 2011.
"This is probably one of the greenest new developments that we will see in downtown Squamish," planner Sabina Foofat told the council at that time.
Wallace, meanwhile, is committed to his project, but construction costs for his Sound Sanctuary project on Third Ave. are proving to be a big challenge.
The costs of architects, having permits for hosting art shows, and being able to live there, too, have far exceeded what Wallace imagined.
After having run into some problems with the first company he hired, Wallace put the project out to tender again.
The prices came in at a fraction of the initial cost and he has now accepted a low bid.
Squamish is the only place he's been able to get the green light for his studio.
In Vancouver there were codes that prohibited his project or rules that prevented him from working and living in the same place, he said.
"I thought it would be fun, I thought, I'm a builder, I can build my own place, no problem. But you can't, really."
For now he's just eager to get the concrete poured and a few containers positioned on top of it so that he can get to work creating.
With a little luck the initial steps of putting in an underground water tank, plumbing, draining and the electrical work might begin in as little as two weeks with the new company.