By Bronwyn Scott
Published: Aug. 24, 2013
In September, Squamish's most needy will have access to healthy and affordable chef prepared meals, thanks to a grant from the Salvation Army headquarters in Toronto.
The $25,000 grant will allow the New Hope Cuisine program to expand to Squamish, allowing seniors and other vulnerable groups to access fresh and healthy food at low prices.
"In essence, it's for anyone who has barriers to feeding themselves," said Chef Scott Rowe.
"There are the economic barriers, but some seniors can have a problem just preparing meals," he said.
Frozen meals prepared by Chef Rowe and other community volunteers in North Vancouver would be trucked to Squamish, where they will be stored at the Mountain Valley Mission in downtown Squamish.
The frozen meals will be supplied to people through partnerships with community organizations, said Rowe.
A three part meal will sell for $4, and would contain rice, potato, vegetables and the main course. One dish item or casserole will cost $3.50, while the soup would cost $1.25.
"In essence, it's for anyone who has barriers to feeding themselves." Chef Scott Rowe.
The program aims to provide anywhere from 1000 to 2000 meals per month.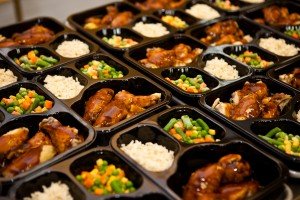 "These are healthy low sodium, low sugar meals made by a chef and community volunteers," Rowe added.
Those planning to use this service should be thankful to local resident Riun Blackwell, who first initiated the program last year, but had to stop due to logistics.
The costs of following through for the properly labeled packaging and transportation were too great and Blackwell held back.
Blackwell is glad to see someone has picked up where he left.
"This is wonderful news, and there is a need for this type of service in our town," he said.
There are troubling statistics when it comes to food security in the province, and in this region.
According to the annual report by the Dieticians of Canada, the average monthly cost of a nutritious food basket in the province is $868.43.
That number goes upward in our region.
The average cost of a similar basket in the Vancouver Coastal Health region: $944.16.
Gerry Kesten, community nutritionist for the region, says it's easy for families to meet their calorie need, but not their nutritional needs.
"Income barriers related to social and housing cost all play a factor," Kesten said.
Recently, a food drive by Squamish Food Bank collected approximately 5000 items of food, of which more than 1900 items were donated by Nesters.
The food bank also raised $4155.19 during this drive called Christmas in July.
The Hope Cusine program is expected to start by mid-Septermber, although there is no fixed date yet.
—With files from Gagandeep Ghuman