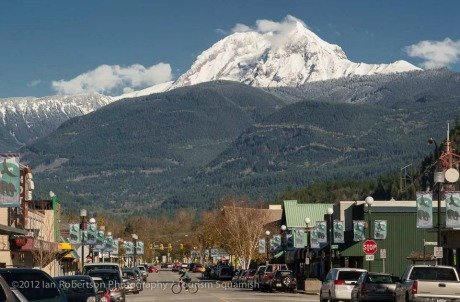 By Annie Ellison
Published: Sept. 28, 2013
Imagine a town with one of the youngest populations in B.C., a history of logging, a strong First Nations community, and a world-class outdoor recreation scene.
Now, try and come up with one unifying message to promote and grow that town: this is what the District of Squamish is paying worldwide tourism development mogul Roger Brooks International $65,000 to do.
"It (brand) can be a positive crafted force or a haphazard image created by reputation." Economic Development Officer Dan McRae.
The district picked Roger Brooks International for the firm's demonstrated public consultation process.
Brooks is most famous for helping turn Michael Jackson's Neverland Ranch into a Graceland style tourist attraction. He also rebranded the depressed town of Jefferson, Texas into one America's antique-shopping hubs. 
And that's just the consulting fee. At Tuesday's district COW meeting, councillors decided to hire R.B.I. to develop a branding strategy for Squamish.
The motion will be officially ratified at the next council meeting on October 1.
"All communities have a brand image whether it's intentional or not. It can be a positive crafted force or a haphazard image created by reputation," said Economic Development Officer Dan McRae.
McRae says the goal is to attract tourism and business development to ultimately increase the population of Squamish.
Over the next 14 weeks, a brand development committee will research demographics, consult with the public and outline the strategy.
Squamish is already known as 'the outdoor recreation capital of Canada.' The district wants to leverage that to get people to invest.
"We're trying to enhance the title, apply a story and know who we're selling it to," McRae said.
The district has been talking about branding since 2004, but not in any comprehensive way.  
Councillor Ted Prior says he's seen too many projects reach an impasse because the town doesn't have a brand. For example, Squamish hasn't had a town sign since it was destroyed in an accident in 2011.
Council was unable to move forward on installing a new one because the district hadn't figured out what it's brand messaging for the sign would be.  
"Then it went into la la land," Prior said.
Prior is still on the fence about investing public dollars into branding the town.
"We could definitely get a nice entrance sign for $65,000," he said.
The money for the initiative is coming from the economic development budget: $45,000 from the strategy budget, and $20,000 from the core budget.
"It's definitely worth the money," said Squamish chamber member Jeff Cooke.
But, he says there must be a clear and measurable return on investment.
That is, actual figures on how many businesses and how many visitors it draws.
"It'll be hundreds of thousands of dollars when it's all said and done," said Cooke. 
"We need to increase our tax base to afford the infrastructure we've built," said Councillor Patricia Heintzman.
She created Squamish's current logo twelve years ago — at her desk in about 20 minutes. She says this process is long overdue.
"We have a slogan. Brand is more comprehensive about who we are and who we want to be," she said.
Heintzman said in the past Squamish has relied on the forestry industry and the Olympics for publicity and branding, but it's time to tell the story ourselves.
Prior said residents in town were divided when they chose the current slogan twelve years ago.
By December, staff and consultants hope to have a concrete action plan with 20 to 40 recommendations for a campaign that will include items like graphic images, marketing messages, signs, pole banners and a website home page.