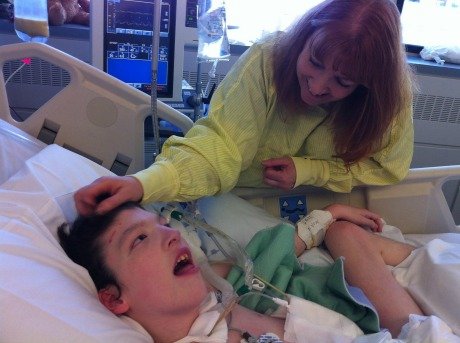 By Annie Ellison
Published: Nov.9, 2013
A concerned mother is afraid her son will die if he stays in Lions Gate Hospital for much longer.
Squamish resident Sandy Mannix can only see her son, 19-year-old Cameron, on weekends.
Her son first entered the hospital in August 2012 because of pneumonia. He's now wearing a trachea device because he suffers from a rare genetic disease that leaves him non-verbal and non-mobile.  
"It's like they've stolen him from me. He hasn't been outside since 2012." Sandy Mannix
Cameron needs around-the-clock one-on-one care, and staff at the hospital are worried he'll displace the device if he's left alone.
This means he's strapped to a bed or his wheelchair for most of the time.  
Mannix wants her son to come home because she says his health is deteriorating in the hospital.
"It's like they've stolen him from me. He hasn't been outside since 2012," she said.
Cameron has lost 18 kilograms and now weighs 30 kilograms. Mannix takes the Greyhound to North Vancouver so she can visit him on her days off, but doesn't think it's enough.
She wants to bring him home, where she said he would be happier and healthier.
Jeanette Poulsen, an advocate for disabled individuals facing hurdles in the health care system, is concerned about Cameron's condition.
"For all of us, as humans, we know this is wrong," she said. "Having someone strapped to a bed is inhumane."
She said if Vancouver Coastal Health was giving Cameron the best care possible, his case workers would be trying to get him home. But they're not, she said.
"I've never seen anything like this in my life," she said. "There is another option."
Individual funding for home care support is available, she said. If Cameron's mother, Sandy Mannix, took a nine-hour course, she would be qualified to care for her son.
However, Vancouver Coastal Health said his condition is too severe to allow for home care.
Poulsen said now that Cameron is considered an adult, VCH told the family his only option is a residential care facility.
"It's where they warehouse the dying," she said. "It's not a place for a 19-year-old."
"It's like being buried alive."
Vancouver Coastal Health spokeswoman Anna Marie D'Angelo says the health authority understands the family's perspective, but claims a team of doctors have said Cameron continues to be high risk and needs care at Lions Gate Hospital.
"All his doctors and care team are in agreement that LGH is the safest place for him to be right now," she said.
Poulsen and Mannix are in the process of applying for Cameron's home care funding.