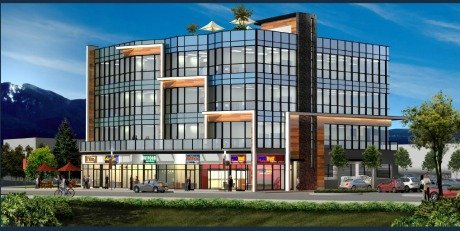 By Gagandeep Ghuman
Published: Nov 9, 2013
The much-talked about downtown transformation might just be happening, one new building at a time.
After the Cornerstone building on Cleveland Ave., a similar project is shaping up on Pemberton Ave.
This new four-storey building, right on the intersection of Pemberton and Second Ave, will replace the old Diamond Head clinic.
Developed by Vancouver's i4 property group, the new building will provide for strata units for sale and lease, with focus on the former.
I4 is the same developer who built Garibaldi Village and Studio SQ in Squamish.
"There is a need for quality space in downtown Squamish." Darren McCartney
The realtor marketing the yet-unnamed building said he believes there is an underserved market for office or retails space that business people can own.
"We saw the need for this strata-type building," said commercial realtor Darren McCartney.
McCarteny said with the success of the Cornerstone building, he has fielded several enquiries from people looking for a similar kind of space.
McCartney said his research suggests people want to buy a space, more than they want to lease.
"Our focus will be ownership, although there will be a spaces to lease," he said.
There will be 1-5 units on the ground floor, with retail space just under 5,000 square feet.
On the second floor, there will be office spaces, ranging anywhere from 375 to 10,625 square feet.
McCartney said all the second floor units will have a private patio, and a large roof top deck.
As it was reported in these pages, there is ample office and commercial space for rent on Second Ave.
While there were 15 office spaces available for rent on Second Ave in March last year, there were only five such spaces available on Cleveland Ave.
Would a building so close to vacant commercial and office space succeed?
McCartney is confident it will.
He said most of the space available on Second Ave is for rent, and the buildings are older.
"There is a need for quality space in downtown Squamish."
He said he knew people who have left downtown for the Highway for lack of a new space.
And he is hopeful the new office building will bring some of those tenants who left for the estates.
With as many as 30 office spaces, the new building can accommodate a wide range of professionals.
Surrounding retail anchors such as Squamish Savings, Lordco, BMO, Husky etc will also add to its success.   
District of Squamish has made downtown transformation its top priority in 2013. One of its quick wins is a program that offers tax breaks on new construction and renovation.
The developers will pass on the tax break incentives to new strata owners of the building.
Construction is expected to start in 2014, with a completion date set for the spring of 2015.