By Gagandeep Ghuman
Published: Dec.7, 2013
To the outside world, Pampanga Market is just a small corner store tucked away in a nondescript part of the town.
But if you are part of the growing Filipino community, it's a more than just a grocery store.
It acts as a connective tissue, a community hall and a reassuring reminder of a home away from home.
There is Tosino and Longanisa and herring fish from back home that can be bought here, but food isn't the only reason they come.
"This is another way for them to know what is happening in the community," said Arman Arellano, the owner of the store.
Confident in his observation that more Filipinos are moving to Squamish, Arellano bought the store last year.
Besides selling products from the Philippines, Arellano also helps his community member ship gifts to loved ones.
The Facebook page of the market acts as posting board for events and parties.
"The store is doing well because the Filipino community is growing," he said.
Arellano is right.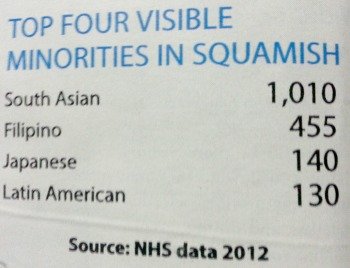 New National Household Survey (NHS) data shows more people from Philippines moving to Squamish than any other country.
The data, collected between 2006 and 2011, shows 140 people from the Philippines started calling Squamish home.
They were followed closed by immigrants from United Kingdom: NHS data recorded as many as 100 new Britishers who now call Squamish home.
For 30 years Mark Goodwin was a police office in London, but two years ago he moved to Squamish with his wife, Gerrie Goodwin.
A bobby turned entrepreneur, Goodwin now owns the House Sound Home Inspection.
Wide open spaces, Mark's desire to move away from law enforcement and overall better quality of life allured Goodwins to Squamish.
Still, it's not been an easy transition.
"Your qualifications amount to very little, and it can be difficult to integrate," Goodwin said.
Still, he doesn't regret the decision, and is optimistic about the growth of his business and his community.  
Trailing Filipinos and Britishers were immigrants from India; there were 95 people from India who called Squamish in that time.
Punjabi is the top non-official language spoken in Squamish.
There were 945 people who spoke Punjabi, followed by Spanish, German, and Tagalog.
There were slightly over 2,000 people who were classified as visible minority people.
There are 1,010 people of South Asian descent in Squamish, followed by 455 Filipinos, 140 people of Japanese descent, 130 people of Latin American descent.