By Gagandeep Ghuman
Published: Jan. 4, 2014
Coun. Susan Chapelle will seek re-election as a councillor in the November Squamish council elections.
She first announced her decision to run for election on Facebook, but confirmed it later in an interview with the Reporter.
"Three years isn't enough time to realize the initiative that I want to see."
"Three years isn't enough time to realize the initiative that I want to see," she said.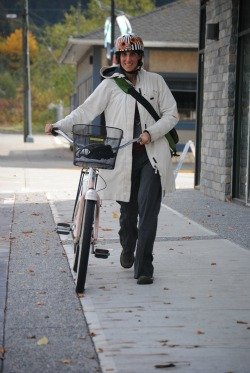 "It's a big learning curve, the process, the terminology and just learning how to affect change."
Chapelle ran a low-profile election campaign with no billboard signs or advertising, and was sixth on the election ballot with 1601 votes.
From the very beginning, Chapelle displayed none of the rookie's self-consciousness as she spoke about issues that mattered to her.
As the local transit committee chair, she said she championed for and got another local bus.
She also helped change bus timings on school routes, and advocated for an electric charging station across from the municipal hall on Second Ave.
BC Transit officials and transit experts and advocates were also invited by her to brainstorm ideas on how to change local transit for the better.
"I'm still working on other transit issues, whether it's regional transit gas tax initiatives, etc."
She said she also advocated for seniors transit, and for under-represented small business owners in the community.
She also helped nix the double billing for home-based business, she said.
"I spoke adamantly opposed to some motions and then changed my mind which I am thankful for."
In a reflective Facebook post, she also admitted to making mistakes but hoped to learn from them.
"I spoke adamantly opposed to some motions and then changed my mind which I am thankful for," she said.
Chappelle first drew attention with her opposition to a commercial development on Garibaldi Way.
The rookie councilor opposed the Tim Hortons/CIBC development on Garibaldi Way, arguing against fast food nature of business and the need for commercial development downtown.
The decision angered citizens who saw the development as bringing jobs and economic development in town.
She stands by that decision.
"One mistake I didn't make was opposing a second highway donut shop," she said.
She has been flexible on other issues, changing her vote with new information, she says.
The most recent example was the vote on Lot 509 and 510.
First she voted to remove the population cap that would have allowed development in an area above Garibaldi Highlands.
She later changed her decision and voted against removing the population cap.
"I spoke for development and against our OCP on a big hunk of land and let it get too far before realizing that my job is to defend the OCP, not change it without the communities permission," she said.
She has also changed her mind on branding, a project which she initially supported.
She also regrets not having argued against the tax exemptions right until the third reading.
Learning how to communicate effectively to the community has been another challenge, she added.
Chapelle is now enrolled in a master degree program at SFU where she is studying community economic development.
City planning, active transportation and local investments are some of the topics she is studying as part of her course.