By Gagandeep Ghuman
Published: Jan. 18, 2014
The community advertises its events here and some say it would be the ideal location for a gateway to downtown Squamish.
But when BC Rail wipes this teardrop off from the cheek of downtown Squamish, the company will be laughing all the way to the bank.
BC Rail has its Buckley Ave property (called tear drop for its shape) up for sale for the last few years.
It's for sale for $2.15 million and the 1.62 acre property is being marketed as a 'high exposure retail' space.
Located besides the Squamish Elementary School, it's the first parcel of empty land that greets visitors to downtown Squamish.
BC Rail property manager Rod Salmon said the property being used to advertise community events is within the road allowance of the district.
 He said the area behind the 'For Sale' sign can't be used for any other purpose.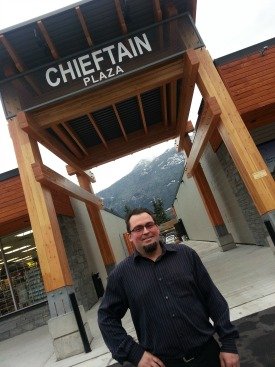 "This is a private property and it's for sale," he said.
Senior vice president of Cushman and Wakefield, Bill Randall, said there have been a few offers on the property, but nothing substantive yet.
The District has approached BCR Properties to put an arts/gateway piece on the teardrop site. The district has also told them about downtown revitalization.
"This is a highly visible parcel at the entry to downtown, and the district sees it as an important opportunity," said Christina Moore, the district spokesperson.
Coun. Patricia Heintzman said once the site is sold, the district would encourage the landowner to be part of the district-led downtown transformation initiative.
She said it's hard to force a land owner but the district can encourage the land owner them to be part of downtown revitalization.
For Christine Campbell, the BIA executive director, the empty lot is an underutilized opportunity.
"Anyone turning off the highway will often look to the right to see the first open space coming into downtown," she said.
First impressions are what drove a $300,000 renovation on Cleveland Ave.
With a spruced up frontage and clean paved parking spots, Chieftain Plaza has a fresh new look.
Plans to refurbish the plaza began in 2009 and last year all the shops pitched in.
The fix-up is showing results.
Squamish Liquor Store manager Phil Lazar said the restored plaza has brought new customers.
It's a pleasant surprise for new and old customers.
"We have had numerous customers who tell us they had never visited the store before," Lazar said.
Now, if only we could do something about the empty lot sitting opposite Cleveland, he said.