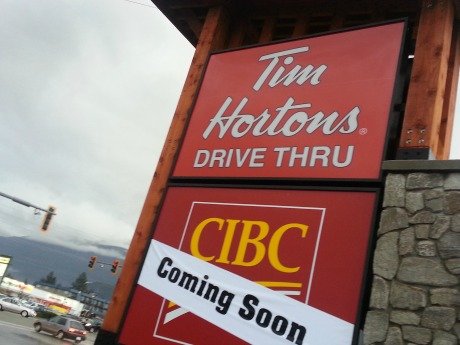 By Gagandeep Ghuman
Published: Jan. 24, 2014
Squamish plans to amend its Official Community Plan (OCP) to restrict future drive-thru businesses in town, a move decried by Canadian restaurant association and local drive-thru business owners as unfair and illegal.
Council voted last month to introduce a policy that will prohibit new drive- thru business in town. [manual_related_posts]
The new OCP policy (19-5) states that 'no new drive-thru structures or businesses will be permitted in any zones'.
"The district has no grounds for this prohibition." Dean Terry, Tim Hortons owner.
Existing drive-thru businesses, however, will be allowed to operate.
Dean Terry, who owns two Tim Hortons in Squamish, said he is extremely disappointed at the district plan to restrict future drive-thrus in town.
"The district has put no grounds for this prohibition," he said in a letter to the council. 
Terry said his restaurant employs 73 people and he contributes $60,000 in taxes, with another $30,000 going every year to local charities.
Terry also fears the new bylaw, if passed, would create problems in the future renovation of his old Tim Hortons in the business park.
Mark von Schellwitz, the vice-president of Canadian Restaurant & Foodservices Association, said the council has given no rationale for this decision.
"We are trying to be the recreation capital, not the drive-thru capital of Canada." Coun. Susan Chapelle.
In any case, he added, council has the authority to prevent drive-thrus on a case by case basis and there is no need for a comprehensive ban.
Speaking on behalf of Tim Hortons, Murray Chown said the district is overreaching its legislative power in enforcing this OCP amendment.
The Local Government Act doesn't provide the legislative power to a municipality to use the OCP to restrict the use of land, he said.
He also said it's disheartening that the district has made no effort to talk to Tim Hortons at a local or national level.
In Dec 2012, council passed a motion saying the district doesn't support the further development of a drive-thru in town and asked distrct staff to bring forward an OCP and zoning bylaw amendment.
The origin of this new policy lies in the vigorous yet divisive council debates over the Tim Hortons proposal in the same year.
Councilor Susan Chappelle led the charge, voicing concerns about idling and its negative effect over other businesses.
She stands by her decision.
"We are trying to be the recreation capital, not the drive-thru capital of Canada," she said.
Coun. Patricia Heintzman said she thinks Squamish already has enough drive-thru establishment.
"I'm waiting to hear what the public says about the drive-thrus," she said. 
The district is holding a public information session on the amendement on Jan. 27 at the Squamish Seniors Centre at 6:30 p.m., with a public hearing on Feb. 18 in the council chambers.