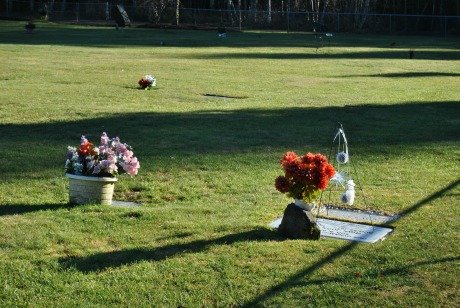 By Gagandeep Ghuman
Published: Feb. 08, 2014
The last trip to the final destination will now cost more in Squamish, and costlier if you are meeting your maker on weekends and statutory holidays. [manual_related_posts]
District of Squamish has increased the fees for grave spaces and other services in the cemetery.  An adult grave will cost an extra $125 for residents, from $725 to $850.
For non-resident, that cost increases by $350. 
Installing a memorial for your loved one will now cost a $64 extra, while grave liners will set you back by another $75.
At a regular council meeting on Dec. 3, staff said other municipalities have increased cemetery fees every year. Squamish, meanwhile, hasn't increased its fee in six years.
Like other services, the district spends more than it earns on cemetery: Revenue in 2012 was $23,800, while maintenance cost was $66,146.
While tax increases result in a political backlash, users fees increases, small and fragmented, often pass unnoticed.
And when it comes to user fees, the district doesn't discriminate between the dead and the living.
District has introduced user fees for special events, increased tipping fees, and plans to increase user fees on recreation and community sports.
Last year, the district also increased the tipping fees to $130, an increase of $10.
Fees had remained unchanged for years, the staff said, and were last increased in 2010.
In increasing the tipping fees, the district sounded like it was doing a favour on residents.
"If residents were to pay the full tipping fee, the cost now should be $148 per dwelling," the report said.
But almost in the same breath, staff warns that 'a further adjustment' may be necessary.
The district won't be too magnanimous when they increase the user fees for recreation.
The district is currently reviewing its park and recreation fees, but it's not yet clear where you will be asked to pay more.
Going by the tone of staff presentation, however, it seems like residents should brace for a fees increase in recreation.
According to the district staff, the current fees structure for parks and recreation hasn't been reviewed for over 20 years.
In fact, the staff said there is 'lack of documentation' to explain how the fees was originally determined.
The district's market survey has now shown that Squamish fees are 'below market range'.
District spokesperson Christina Moore said the district wants a fee structure that will improve access, encourage use, and support local community groups.
But community groups like the local soccer and baseball associations seem far from supported.
It's not yet confirmed, but a new user fees for soccer and baseball could be anywhere from $6-10 per hour per field.
Soccer and baseball associations fear they would have to charge more in registration fees that might deter people from bringing their kids to youth soccer.
The increase in fees would impact families like the Olivers.
Bri Oliver pays $350 in registration fees for her three boys, Cooper, Noah and Miller to play for bother baseball and soccer.
Oliver fears the new fees and charges might increase the registration fees, and other costs of playing the sports for her boys.
And if the fees increased over years, the family might face a tough choice on who plays and where.
"This is so wrong," Oliver said.
"Why does the district want to profit from sport that keeps our kids active."