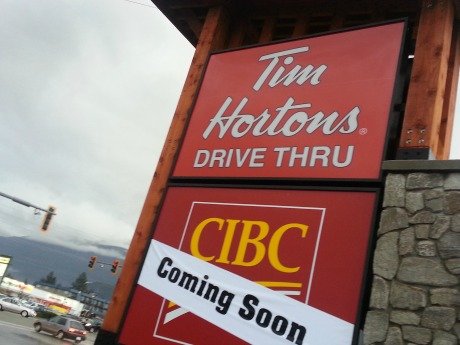 By Gagandeep Ghuman
Published: Feb. 19, 2014
Future drive-thrus won't be banned in Squamish, although the issue will be finally decided when the proposal comes up for a zoning review.
Squamish council voted unanimously on Tuesday, Feb. 18, to remove a proposed ban on future drive-thrus from its Official Community Plan (OCP) amendments.
More than 20 residents, including the director of the chamber of commerce, spoke against enforcing such a ban at a public hearing in council chambers on Feb. 18.
A few people also spoke in favour of the ban, but the overwhelming majority of speakers opposed the ban on future drive-thrus in Squamish at the public hearing.
After the public hearing yesterday, council gave third reading to other OCP amendments, but removed Section 5 from the OCP, the section which proposed a ban on future drive-thrus.
Yesterday's public hearing was a culmination of a long and bitter debate on the future of drive-through businesses in town.
Coun. Susan Chapelle championed the ban on future drive-thrus, saying they promote unhealthy eating, idling, and contribute to pollution. She has also opposed them from a land-use perespective, arguing we need employment lands that can create high, living wages.
Yesterday, however, she too voted to remove the ban on drive-thrus from OCP amendments.
"I listened to the public's concerns, but I'm also disappointed that this passed," she said.
She said she was hoping more people who opposed drive-thrus showed up. She also plans to oppose the drive-thrus when they come up for a discussion at a zoning bylaw amendement in March.
"I don't like looking at them, I don't want them."
Dean Terry, the owner of two Tim Hortons in Squamish, said he was very pleased with the decision taken by the council last night.
"I'm very happy and pleased that the community voiced its opinion, and the due process was followed," he said.
Terry said he had never really seen the proper reasoning for the proposed ban in the first place.
The present drive thru owners also felt the proposed ban would make renovations or lease negotiations difficult in the future.
As of now, the plan to ban has been removed from OCP amendments, but plan on a ban on future drive-thrus still remains in the zoning bylaw amendments that come before council on March 18.