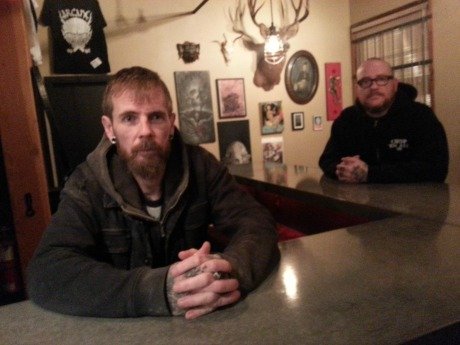 By Gagandeep Ghuman
Published: Feb. 22, 2014
When Mark Lankin and Steve Cole moved to Squamish to open a tattoo shop on Second Ave, they were convinced it was the right move.
The town was pretty, close to Vancouver, and they had a business that filled a niche.  
"There is just way too much red tape in Squamish." Mark Lankin.
But now, caught in the maw of Squamish bureaucracy, they have come to doubt that decision.
Even though they are a service-based business, the Second Ave shop they rent is zoned light industrial.
District of Squamish is refusing to give them a business license, asking them to either applying for a rezoning or move to a new location that is  zoned commercial.
For the past three months, both have been trying to convince the district to change the zoning as most businesses at the end of Second Ave are commercial or service based.
They have yet to hear from the district. In this limbo, their business is technically illegal.
"There is just way too much red tape in Squamish," Lankin said.
"They should be encouraging business, not hindering it."
Councillor Ted Prior owns the building on Second Ave.
A rezoning application would mean he would have to put hundreds of thousands in amenities like street lights, etc.
Prior said a few years ago he had his property rezoned to C-10, a special zone which allows personal services like a tattoo shop.
Later, he said the district told him the zoning was never successful.
"I can't say too much as a councillor, but I'm working to get this issue resolved," he said.
Misplaced zoning is a wrong Coun. Susan Chapelle is working hard to right.
"The zoning is messed up all over Squamish and we need to do something about it," she said.
Chapelle said there are professional and commercial services like gyms in the business park, while professional service shops have been zoned industrial and light industrial in downtown.
When she wanted to set up a shop in downtown Squamish 14 years ago, Chapelle said she was told the area was zoned industrial.
But the district asked her to go ahead anyways, saying they are a complaint-based business.
"They said don't worry about it, just put your business out here," she said.
As for the tattoo shop, she said if other service-based businesses on Second Ave have business licence, so should the tattoo shop.