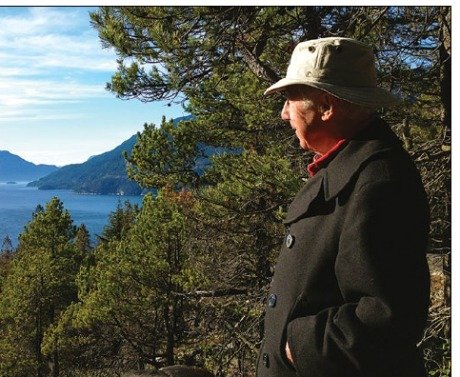 By Annie Ellison
Published: March 6, 2014
With picks, shovels and patience, Squamish's committed volunteers are giving the last touches to another trail.
For the past two years, countless volunteers have worked on a new trail at Murrin Lake Park. It's expected to open officially in June.
The Murrin lake loop trail system is a joint endeavor of Capilano University's Advanced Wilderness Leadership program, led by Don Webster, and the Squamish Access Society.  

It's currently in the "finished rough" stages, said Brian Moorehead, the director of the Squamish Access Society.
At the base of the trail near the lake is a pile of gravel road base with a few buckets stashed in the nearby woods.
Moorehead often propositions climbers on their way up to carry a bucket or two for him.
"I'll exploit anyone," he says.
Moorehead has been climbing in Squamish since the 1960s and saw through the 25-year development process of the Smoke Bluffs Park trail network.
"Smoke Bluffs is my baby. This is my second baby," he says.
Murrin Park sees an estimated 350,000 visitors per year, with the only real trails being haphazard routes linking rock-climbing walls. It boasts the second most single-pitch climbs in Squamish after Smoke Bluffs.
Simply put, the roughly 1.8 km loop helps both climbers and gives the average hiker a great trail along with a view-point.
The well-worn route up the backside of the Chief started out the same way: a few paths linking climbing walls.
It's a similar view to the Chief, only considerably less work.
"If you look straight down the sound, you wouldn't know there was any sign of human habitation," says Moorehead.
Aside from Capilano students, youth from St. Georges school and the Prince of Wales Trek program in Vancouver come up to lend a hand.
One of the key elements of the trail-building process is that it provides a project and an opportunity for students to learn about environmental stewardship.
As far as trails go, this one is relatively low-budget, around $7,000. The Smoke Bluffs trails, which were built professionally, cost upwards of $125,000.
One of the most crucial components to trail-building is finding the "dirt mines."
"Dirt is harder to come by than you think," he says.
The trail, expected to open in June, will likely have its name changed to Quercus, after a beloved (now dead) family dog.