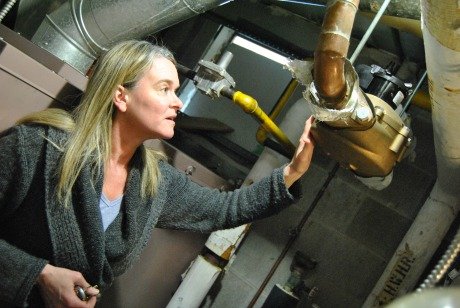 By Gagandeep Ghuman
Published: March 14, 2014
When the utility bill makes its way to the Squamish Senior Citizens Home Society, Laura Modray will receive it with a sense of relief and curious anticipation.
This year, Modray knows the bill wouldn't be as bad as it has been for years because of the new water meters at the housing complex.

For over a decade, Modray, the housing society administrator, has tried to reason with the district about the inherent unfairness of the society's water and sewer bill.
Small individual units at the seniors housing, no more than 300 square feet, were bring charged at the same rate as big monster homes right across the street.
The combined bill would come to over $50,000, almost ten per cent of the budget.
Last year, however, the district agreed to install water meters at the seniors housing society.
"We are going to save a lot of money," said Modray.
"I'm quite hopeful the cost of water will be cut into half."
While water meters may save the seniors housing money, that won't be the case for the rest of Squamish.
Squamish council voted in March to increase the water and sewer rates by 10 per cent.
With the 10 per cent increase, a home owner will now pay $351, a difference of 32 dollars compared to last year.
The secondary suite owners will shell out $280, an increase of $25 compared to last year.
It's the same story with the sewer rates, an increase of 10 per cent.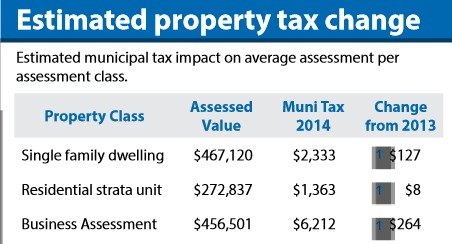 The rate for a single family dwelling will increase to $489.95, a difference of $44 compared to last year.
To meet its infrastructure needs, Squamish plans to increase sewer and water rates to increase revenue by 65 per cent to meet its infrastructure needs.
The five-year plan proposes an increase of 10 per cent in sewer rates, and another 15 per cent increase in 2015.
 As for property taxes, the change is 5.14 per cent.
At a recent budget meeting, the district patted itself on the back for making the tax increase more palatable compared to last year's tax increase of 11.36 per cent.
But tax reductions, of course, were only possible with the service contractions, from library service to sidewalks and bike lanes.