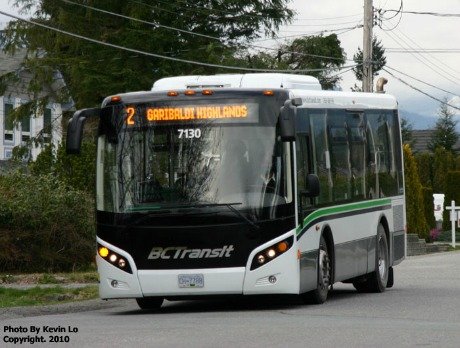 By Gagandeep Ghuman
Published: March 22, 2014
Ridership in Squamish has seen a 3.9 per cent increase since BC Transit improved and added new bus services, a BC Transit official told a district committee.
"The public is happy with the existing system…They just want more service additions to it." Johann van Schaik.
Johann van Schaik, the regional transit manager for the south coast, recently spoke at a transit committee meeting.
In September 2013, BC Transit introduced three changes to the transit: An improved weekend service, a Sunday holiday service, and a new Tantalus route.
Schaik said the public has embraced the increase in service. On Sunday, the Valleycliffe run has standing room space only.  
The newly-introduced Tantalus route is also getting better, he added, with riders demanding more stops.
"The public is happy with the existing system…They just want more service additions to it," he said.
Schaik also claimed the rides per hours in Squamish have also increased in the past two year, and they are increasing at a faster rate than the operating costs.
Transit services have gone from 19 rides per hour to 21 rides an hour, decreasing the operating cost per ride.
The operating cost per ride is now $6.36, down from $6.67, but still not enough to depend on tickets for revenue.
Every ride that costs $6.36 makes only $1 in revenue, contributing a small portion towards revenue.
"That explains the essence of problem that we are grappling in transit," he said.
Schaik said BC Transit has also conducted independent surveys to identify issues such as late trips (anything more than three minutes) so local transit can be made more reliable.
The transit authority sampled 400 trips in the last two years, and found out that late trips fell from 14.7 per cent to 8.3 percent.  
"The tide has started to turn, it's time we pat ourselves on the back," he said.
District puts $1.7 million, 13 per cent of its operating expenses, towards transit.
District earned $215,000 from transit in 2013.  
Schaik also gave the committee a presentation about a 25-year plan for local and regional transit in the corridor.
The Transit Future Team is bringing its transit future sus to Squamish March 27 and 30 to ask residents what they think about the current system and what they'd like to see in the future. 
Input collected will be incorporated into the long-range plan to help ensure it meets the diverse and growing needs of our community.
Share your comments about the current systems and suggestions for the future aboard the Transit Future Bus:
Thursday, March 27 from 11am to 1pm at Chieftain Centre
Sunday, March 30 from 11am to 1pm at Brennan Park Recreation Centre
Sunday, March 30 from 2:30 to 4:30 pm at Squamish Nation Band office