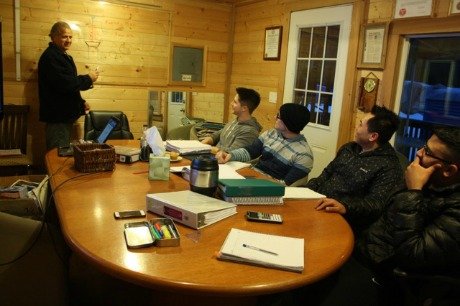 By Gagandeep Ghuman
Published: April 5, 2014
A Squamish entrepreneur is hoping someone will share his dream of expanding his small school into an engineering college.
A first-class power engineer, Abolfathi taught for 15 years at the Northern Alberta Institute of Technology.
Retirement brought him to Squamish, where he bought the Squamish Valley Campground.
In 20102, forced by ennui and a stagnating mind, he applied and secured the certificate to teach four courses in power engineering.
It's a field of work where salaries can start with six figures and demand for workers far outstrips the supply.
"There are oil refineries that are willing to pay $100,000 just to have a power engineer on standby," Abolfathi said.
But demand is high for the course.
Prospective students have to wait for two years to get into BCIT, and colleges in Price George and Alberta have similar waitlists.
It's also getting quite busy at the Power Engineering Technology Corporation, or the Squamish Valley Campground.
In the last two years, 55 students have been granted certificates by Ali Abolfathi.
Students come from all over B.C. and Alberta, some staying for as long as six months.  
Dylan Liesch decided to come to Squamish after being told of a year-long wait to get into the program at the College of Caledonia in Prince George.
In the middle of his course, Liesch already has a job offer waiting for him in Cold Lake, Alberta.
Unlike BCIT and other bigger institutions, Abolfathi can't offer a practical training component.
Liesch says he was concerned about it initially, but a high demand for workers means employers are willing to hire without the practicum.
"What we lose in practicum, we gain in the knowledge that Abolfathi has on the subject," Liesch said.
If he had proper infrastructure—classrooms, a lab and tie up with industry—the engineering course could be an economic boost to Squamish.
"I'd love to expand this…I could produce hundreds of engineers every years in Squamish," he said.
Abolfathi said he has approached Capilano University before, but the cost to rent their classes was prohibitive.
He has rented classrooms at Quest, but higher cost pushed him to back to conducting classes at his campground.
He hopes the district or an investor can help him find an empty building where he can set up a lab and a few classrooms.
He is also writing to heavy industry, asking them to donate their equipment for the practicum course.
He is also hoping the squamish economic development office will help him find a space for his endeavor.
"This could be a great economic booster for Squamish," he said.