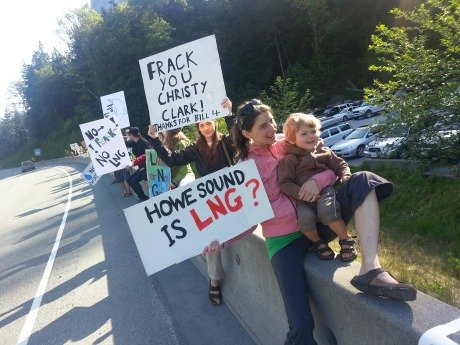 By Gagandeep Ghuman
Published: May 17, 2014
As many as 100 people gathered along Highway 99 at Shannon Falls to protest the proposed LNG project in Squamish.
The protest was organized by My Sea to Sky, an anti-LNG group co-founded by Tracey Saxby.
Saxby said the LNG plant is part of a fossil fuel economy with a boom and bust cycle that can directly impact the new economy emerging in Squamish, one of film, rec-tech, and knowledge based industry.

"We are not saying no to industry, but this doesn't fit our vision of a young, hip sustainable community," she said.
Saxby said volunteer researchers from the community are currently studying sustainable industries that would be a good fit for Squamish, a closed-containment fish farm, for example.
She also questioned the provincial environmental assessment process, saying it's a flawed. She said the province has never said no to a project in her knoweldge.
"It makes me concerned that it's a set up to rubber stamp projects," she added.
Former mayoral candidate Auli Parviainen said there has been no political process for community input into the LNG project.
She also said there needs to be a discussion on the bigger issue of what kind of economy we want in town and in the province.
"It's (LNG) again based on non-renewable resource extraction, the tax benefits are dubious and jobs will require special expertise with people coming from elsewhere for these jobs," she said.
It reduces industrial land inventory and the profits from the project won't be kept local, she added.
'This is money that is headed right out of town."
Tegan and James Butterworth, a young couple with kids, said they joined the anti-LNG protests because they were concerned about the air quality, fracking, and general health of the ocean and local environment.
The couple said they moved to Squamish when the pulp mill closed down, an important factor in their relocation.
"We won't be here if the mill was still open," said Tegan Butterworth.