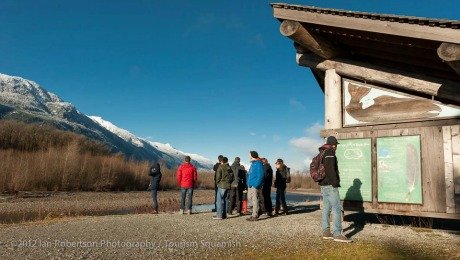 By Gagandeep Ghuman
Published: May 24, 2014
It's been an epic adventure for eagles counters and eagle watchers this year.
For the first time in eight years, the final Brackendale Eagle Count came back in four digits with volunteers counting 1617 eagles, double the numbers of eagles spotted last year.

Long recognized as a significant area of wintering bald eagles, Squamish also holds the world record count of 3,769 eagles in 1994.
Squamish River's riparian areas are a suitable habitat for eagles, and a healthy run of chum salmon in local rivers can attract eagles from all over the Pacific Northwest.
"A good salmon year equals a good eagle year," said WildSafeBC coordinator, Meg Toom.
Brackendale Eagle Count festival organizer Thor Froslev said John Buchanan counted 593 eagles at Elaho, the furthest count on the eagle habitat.
Talking to the Pique's John French, Buchanan said he noticed a significant number of Coho salmon in Shovelnose Creek, a tributary of Elaho River.
"A good salmon year equals a good eagle year."WildSafeBC coordinator, Meg Toom.
Department of Fisheries and Oceans (DFO) has also released 1.1 million chum salmon fry in the Judd Slough, Meighan Creek and Tenderfoot Creek, hoping to increase the number of salmon in the local rivers.
Another program that has helped eagle tourism in town is the local Eagle Watch program, now in the 19th year of existence.
Run by the Squamish Environmental Society, the eagle watch program developed because of the record number of eagles and the tourist that followed.
Eagle Watch aims to foster awareness and promote ethical viewing practices, and also helps gather statistics on eagles and visitors, tracking their numbers for two months, from November to January.
On December 26, for example, volunteers counted more than 1200 visitors to Squamish, while 200 people enquired about Eagle Watching at the visitor information centre.
The coordinator of the Eagle Watch program, Larry Murray, said Eagles have never been considered an economic driver, although this is changing.
The program is trying to rally the district, Tourism Squamish, and local hotels to pitch eagle-specific tourism experiences.
Last year, Tourism Squamish arranged for science writer Jude Isabella to write about eagles in the Outlook newspaper.
The Executive Suites Hotel has created a Brackendale Eagle Viewing Rate, donating $5 from every room night reserved under the special rate to the Squamish Estuary Conservation Society.
Squamish Environment Society now hopes the district will do something about the increased traffic and insufficient parking at the north end of the dike.