By Eric Andersen
Published: June 13, 2014
The recently opened Sea to Sky Gondola realizes longstanding visions and schemes for new tourist facilities and mountainside access in the Olesen Creek – Shannon Falls area.

Plans for a grand "elevator" for tourists at Shannon Falls were being considered already back in 1962:
"Engineers are now drawing plans for an elevator reaching more than 600 feet up the side of the falls … serving a coffee shop on a ledge at the top and a series of resort cabins, one above the other, incorporated into the supporting structure. 'It will be unique in all the world … higher than the Space Needle at Seattle and the only resort development of its kind.' " [Squamish Times, April 12, 1962]
The new gondola, conceived by partners Trevor Dunn and David Greenfield and installed by the Doppelmayr firm, is a milestone in local tourism infrastructure development. But it is not the first aerial tramway in northern Howe Sound, as there were two earlier installations. The stories behind them are inter-related.
Aerial trams for tourists – the technology and the companies who have made them – have their origins in mining and logging transportation.
For example, a branch of the Doppelmayr concern has long been a world leader in mining materials transport. Doppelmayr has also constructed logging cableways in the Alps – inspired by our skyline logging systems, such as were used at Olesen Creek and across the Squamish River from Brackendale many years ago.
The first aerial tramway in this area was built 110 years ago for the Britannia mines. During 1904 a "Riblet Patent Automatic Aerial Tramway" was installed – in two sections, for a total length of 5,120 m (16,800 ft). The combined vertical drop was 975 m (3,200 ft).
The length of the Sea to Sky Gondola lift line is 2,135 m (7,000 ft), and its vertical drop is 850 m (2,790 ft).
Riblet aerial tramway systems brought ore down to the mill at the Beach from 1905 until the mid-1920s, being replaced over time by higher productivity transport methods.
Britannia tramway components were supplied from Nelson. Engineer Byron Riblet had already designed and built a few dozen aerial tramways for mines in the Kootenays.
Riblet was continually incorporating new ideas and improvements, and held numerous patents. Riblet tramways were versatile – able to incorporate different cable grip devices and systems, and carriage attachments as needed.
During 1903, while the Britannia tramway route was being prepared, Riblet designed and built a passenger chair prototype for a mining tramway in the Lardeau Valley (Kootenay Lake) – the first recorded use of a chairlift in the world.
It appears the chairlift attachment was not used at Britannia; but there and elsewhere passenger use of ore buckets was not uncommon (even if against safety rules).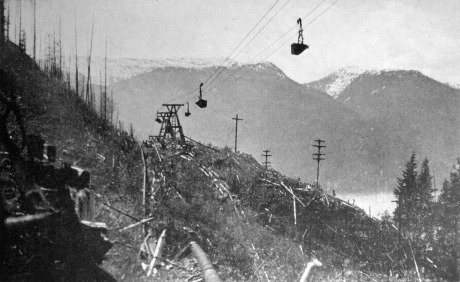 The Great Depression took away the mining industry market for aerial tramway system suppliers, and both in Europe and North America companies were looking for new fields of activity.
The Doppelmayr firm entered the winter sports market for cableways with construction of Austria's first skilift, at Zürs am Arlberg in 1937. The same year, mining tramway engineers built the fist ski chairlift in North America, at Sun Valley, Idaho.
It was the Riblet Tramway Company, after 1910 based in Spokane WA, which made the most successful transition into the new industry of aerial tramways for tourists and skiers, beginning with the 'Magic Mile' chairlift at Mt. Hood, Oregon. The 'Magic Mile' opened in 1939 as the longest chairlift in the world and the first with steel towers – yet entirely based on company designs and know-how from mining materials transport.

With post WWII economic prosperity came a steady growth in the popularity of skiing and chairlifts, with the Riblet company becoming the world's largest ski chairlift system supplier by the 1970s.
In 1950, Riblet returned to the mountains above Howe Sound to build a mile long, single-chair skilift at Hollyburn Ridge (Cypress Provincial Park). The "Chairlift to the Stars" was operated by Hollyburn Aerial Trams Ltd. from 1951 to 1964.
Also in 1950, a very unique aerial tramway system was installed at Mt. Hood, Oregon – this time, it was a project with direct linkage to Squamish.
The Mt. Hood Skiway was at 5 km (3.1 miles) the longest aerial passenger tramway ever built. (Whistler-Blackcomb's Peak 2 Peak moving cable lift is 4.4 km (2.73 miles) in length.) Modified city buses seating 36 passengers whisked skiers and summer visitors from the 3,800 foot level to Timberline Lodge at 6,000 feet, in 10 minutes.
The Mt. Hood Skiway tram system was built by Pointer-Willamette Co., based on aerial logging system innovator Phil Grabinski's 'Skyhook' technology. An important trial of this system took place at Squamish in 1948.
John W. Drenka's Howe Sound Timber Co. was a contractor for Empire Mills Ltd., which had a timber sale on the west side of the Squamish River, directly across from the railway's North Yards and the Railway Heritage Park.
A self-propelled Skyhook machine with a powerful logging winch was installed on a to-and-fro 'skyroad' cableway across the Squamish River and up the side of the mountain.
The 1948 Squamish aerial tramway installation attracted substantial industry and general media interest. Visitors came from as far away as South America to observe.
The 1948 Squamish logging project was the first instance in this region of a passenger cabin being used with an aerial tramway. This was due to WCB concerns about the Skyhook vehicle going across the river clumsily loaded up with several crew members.

The crew transport solution was a suspended passenger cabin designed and built by Ross Barr, in his Cleveland Avenue mechanical shop.

Pointer-Willamette kept the Ross Barr designed passenger cabin, and it was later used at other Skyhook aerial tramway installations in B.C. and elsewhere.
We don't generally give much thought to the connections between ski chairlift or tourist tramway systems and the worlds of mining, logging and industrial materials transport. Yet, these borrowings and parallel applications of aerial tramway technology involve some interesting local stories and achievements.
It is probably likely that our Squamish and Sea to Sky region will continue to be a venue for further innovations in aerial transport technology in future.