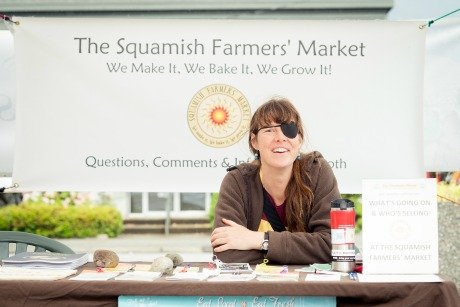 By Gagandeep Ghuman
Published: July 07, 2014
Every Saturday, as many as 2500 people can make their way to the Squamish Farmer's Market on Cleveland Ave.  
For some like Graham Fuller, the market is more than just a venue to buy food.
Going to the market means learning more about the community, helping its economy, building town solidarity, and having fun–all at the same time, he says.
"It's a chance to go downtown, mix with friends, gossip about Squamish and even the world."
The Squamish Farmers Market also de-wires us and routes us back to the community where clicking gives way to connecting. Its very idea is rebellious, a take-control kind of mutiny over aisle shopping of food brought from somewhere else.
Presiding over this retro comfest is Carolyn Morris, a teacher turned manager whose can also teach us something about smiling more often.
Morris has been a market manager for eight years and the farmers market has only thrived since, becoming a tourist attraction in its own right.
Morris recalls there were 12 vendors when she first started. Now, there are 62 vendors at least 13 on the waiting list.
Almost every day, she hears from vendors who would like to be part of the market, some from as far as 100 Mile House and Agassiz.
Locals aren't the only ones smitten by the Squamish Farmer's Market.
Shopping at the market was one of the top six reasons to visit Squamish, according to a recent Vancouver Sun article.
The Sun newspaper also declared the market to be the Most Beautiful Location for a market. ("In a province that boasts some pretty impressive scenery, it's hard to beat the location enjoyed by the Squamish Farmers Market")
While the adulations make her happy, what makes Morris really proud is what the market has done for community connections.
"The market fosters community action, it helps people reconnect with their food and each other," she said.
It also helps keep the money local and locals have affirmed the need for a market with their wallets.
Around 2,500 people turn up every Saturday at the market and turn over $20,000 in a single day.
The Squamish Farmers Market pumped $1.8 million into the local economy, according to BC Association of Farmers' Markets, who studies the market along with Dr. David Connell, UNBC professor.
The market continues to evolve, with new products and diver se vendors. In the coming few weeks, you will Aussie Pies, fresh cheese, some new beef and egg vendors at the market. The market has just added non-GMO fresh produce.
The market is also looking for new performance artists, be it dancers, jugglers or mimers.  
When people come to the market, they might end up spending a little more, but in the end they are investing in their community and local products.