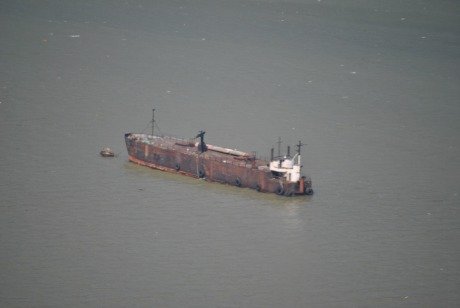 By Gagandeep Ghuman
Published: June 14, 2014
From a distance, the boat looks like a scab on the clear skin of Howe Sound. Up close, it looks less of an affliction or so says Steen Larsen.
"The tug boat is in excellent shape," Larsen told the Reporter.
"The tug boat is in excellent shape." Steen Larsen
"From a distance it looks a little tattered, but the condition is very good, it just needs a paint job."
The tug boat is visible from the Highway, but also from the new Sea to Sky Gondola, Larsen's 'gift to the community' as one visitor wryly remarked looking at the distant brown blob.
It's been a month since Larsen promised the boat would be removed, but it remains in Squamish, casting an ominous shadow on the Howe Sound. 
About a month ago, it dragged the buoy it was tied to and started drifting towards the shore.
Larsen said the chain was so old that it let go. He said he was negotiating the boat's removal from the Sound.
"We will take it away…and it won't come back," he said.
"It was never meant to stay here, but this was temporary until we got approval for the new site."
Larsen claimed he monitors the boat regularly and it's in excellent condition.
He refused to disclose when or where the boat would be moved, claiming he is in the midst of a negotiation.
In January this year, Elf, a boat co-owned by Larsen, sank near the government dock and spilled up to 1,500 litres of diesel into Mamquam Blind Channel.
At that time, Larsen claimed to the CBC that the Elf could have been sabotaged.
Overlapping jurisdictions make it difficult to pin blame or find solutions to the derelict boats issues that have plagued Howe Sound in the recent past.
In March, the council also passed a resolution encouraging the federal government to actively enforce the federal environmental regulations with respect to derelict vessels.
There is no inventory of derelict or abandoned boats in the province, although Transport Canada is said to be working on one.
Some unofficial estimates, however, have put the number of derelict boats in the province at 200.