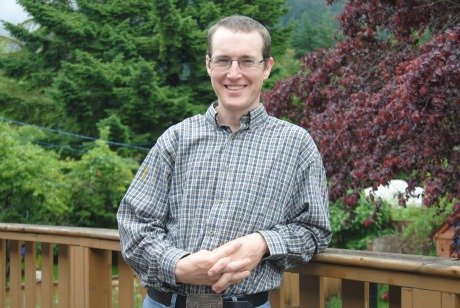 Now in his second term as a councillor, Bryan Raiser has shown a lot more grit and grasp than his constituents and supporters are used to seeing. Gagandeep Ghuman interviewed a more assertive Bryan Raiser on issues of the day.
Let's begin with Woodfibre LNG. What are your views?
Well, I keep getting different information all the time, but I'm waiting for more information and what the tax implications will be. From what I have read, globally, it makes no sense for us to be getting this. I haven't run into anyone who says LNG is a very progressive thing that is going to benefit us. We are not an industry town anymore, which is another really hard thing for people who have lived here to get their head around. And people who have moved here, they love it for not being an industry town.
If Woodfibre LNG means the dolphins and whales can't come back or air or water is compromised, then no, but we also don't know the tax implications. So, if it brings in $10 million dollars, I will put up with some stuff for that. 
Why have the councillors been so silent about this?
Well, because we have no information. I can yell and scream, but is that going to do any good, is anyone going to listen to that. We have to make a cohesive decision, the most effect that the council will have on it is if we come out with a vote, saying this is our view and I have been told there is thorough environment process, which is coming to head right now.
What are your views on Kingswood?
My view is that something is going to be build there eventually, and the majority of the community doesn't care…whatever. But it's an issue for neighbours most affected by it, and the crux of the problem has always been transportation.
The problem is that anyone who lives there things there is no way the intersection can handle more people, and then we have several thousands of dollars of studies saying yes it can.
There are professional and peer reviewed studies saying yes it can handle more. I have a hard time believing it won't be tight, but this is an open for business council and this is business. 
 The impression that Squamish is closed for business, do you think has that changed?
Well, yes and no. Squamish wants to be open for business but as of right now, we have lost a lot of staff and we are looking to replace a lot of staff. Our machine isn't operating 100 per cent right now. As much as everyone says we got to get rid of staff, we are down some key positions. It's happening very slowly, when we first got elected, that was our number one priority that we have to be open to business.
We have a horrible reputation and we have to turn that around. We were very vocal, and we directed everybody that we had to improve our customer service. The best thing that could happen if you want to see as being pro development is to let developments go through and then they talk and the word gets out.
What happened to the Valleycliffe trail?
It got tied up in Kingswood and water main process. There were a few plans that came forward and, I think if Kingswood goes through, it will most certainly happen. 
What are the challenges of being a councillor?
Well, there is always the challenge inherent in the bureaucracy. That is a big one and that council says let's do this, and then it doesn't get done. One of the most frustrating part actually is when you get an update on previous council motion, and then seeing that nothing has been done.
What about SODC negotiations?
Well, it's a huge multi-million dollar oceanfront negotiations and it's first one I have ever been involved in. We hired some consultants who I have faith in, which is great. It's just going slow, and I sure as hell don't want to be secretive about it, but you have to follow the process.
What about taxes and budget cuts?
Well, there was a budget cut on everything, the last budget being such an increase, everything came under cut and that was one thing I wasn't happy about. Our utilities have been on an upward scale and part of the problem is in how municipalities are created. There has been little to no change in powers but the responsibilities have increased through the roof.
Our taxation, I am really trying to get some concrete information on how much a single family house costs because every time we build one, we don't collect enough taxes to supply the infrastructure to that house. So you are digging the hole deeper, it's not sustainable at all.
There is the impression that we have a lot of district staff?
Well, the main reason we can't find the head of engineering or something like that is because we can't afford any competent people. I shouldn't say we can't afford competent people but someone you find is perfect for the job but they are making three times more than you are offering. Some people do take a cut because they want to live in Squamish, but it's a big challenge.
You have been quiet on council compensation?
My earlier motion to raise it by 48 per cent was defeated, but I think council should at least be $32,000 or $33,000. No one could agree on a magic number, you have to pay people enough so they can put aside the time and read the agenda and talk to people.
What are your views on Squamish branding?
I moved here and just the new logo was unleashed and everyone hated it, and then there was the guerrilla warfare to getting us to be Outdoor Recreation Capital of Canada, and everyone hated it and now we have a new one and everyone is going to hate it, and they will accept it eventually. Eventually people will get over it and they will find something else to worry about.