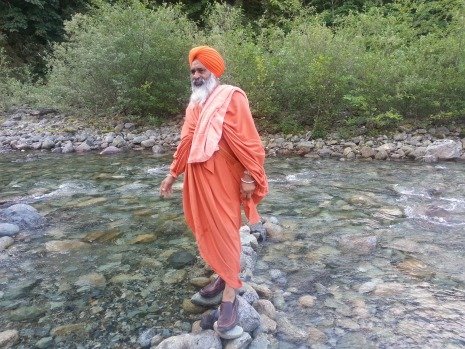 By Gagandeep Ghuman
Published: Aug 5, 2014
One of India's most heroic eco-warrior, Sant Balbir Singh Seechwal, visited Squamish on July 16 with his followers. Sant Seechewal was in Squamish to visit one of his follower's home. As expected, he asked to check out the nearest lake or river.
Dressed in his distinctive ochre-coloured robes, the 60-year-old spent time on the Stawamus River dike and later at the Squamish River dike in Brackendale.

Standing there, he looked closely at the water furiously coursing its way through the river. As if overcome by an inexplicable emotion, the Sant  (holy man) rushed to the river's bank.
A few followers trailed behind and called him to be careful of the raging water. By the time they reached him, the Baba had already dipped his cupped hands in the water.
Out of respect for the water, he took a sip and sprinkled some on his head.
Then, he looked at his followers and smiled: "You can't bring me to water and then ask me to not go near it."
When you single handedly clean 180 kilometers of a dirty river canal, love for water—and the environment—is bound to flow in your heart.
About five years ago, Baba Seechewal mobilized his followers to clean the Kali Bein, a 99-mile long river that had become a dumping ground of waste from nearby villages and town.
The polluted water of the river had also contaminated the water table below and was causing medical problems for the villagers.
In inspiring the villagers to action, the Baba drew on the love for environment professed by the Sikh gurus in the Guru Granth Sahib, the holiest book of the Sikhs.

 It was a mammoth undertaking, but the canal was rendered clean by the Baba and the villagers. His efforts have since won widespread acclaim.  In 2008, Time Magazine honoured him as a hero of the environment.
Last year, he was also honoured by the Government of Canada for his contribution to the environment. As the cleanup of the river becomes complete, he has now expanded his work to clean more canals and rivers by community volunteerism.
He has now taken up the cause of cleaning the Buddha Nala, a canal in the industrial city of Ludhiana notorious for pollution. It's, once again, a demanding task but the Babs is unfazed.