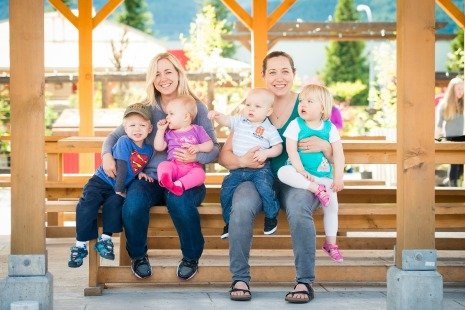 By Victor Tharenou
Published: July 08, 2014
A world leading school program to develop empathy in young children is changing the way Squamish educators tackle bullying.
And on the forefront of this battle are local babies themselves.
In 1996, Mary Gordon established the Roots of Empathy pilot program in Toronto to foster empathy in students from kindergarten through to Grade 8.
Since its inception, the program has been delivered to more than half a million student's world-wide.
In this program, a local parent and baby visit a classroom along with an instructor several times in the school year and use the baby as an emotional teacher.
The idea is to foster in the students a positive, loving relationship and teach them to better understand their own feeling and those of others.
Research on this program has shown children who have interacted with the babies show more empathy and other positive traits, including an increase in reasoning and communication skill.
A 2009 report on research conducted into the program found six key outcomes for the children involved:
Decreased aggression
Creates more caring children
Increase in social and emotional understanding
Increase in parenting knowledge
Increased perception of a caring classroom environment
Long lasting results
 The program currently runs in Squamish, Mamquam and Garibaldi-Highlands elementary schools, and similar results have been reported.
Director of Instruction for the Sea to Sky school board, Marilyn Caldwell, said the school administration is always looking for different models to fight bullying.
She said the program gives an opportunity to be a nurturer and understand what nurturing looks like for a young child. With smaller families, these are skills that perhaps not every child gets exposed to, she added.
Local mom Michelle Greenlees has taken her daughter, 11-month-old Lexi, to Mamquam elementary since October. She said there has been a change in the way children act both towards adults and amongst themselves.
On the playground, for example, they teach children how to react by asking and assessing children's reaction.
"They ask me, "What do you do when Lexi cries?' and then the teacher will ask the kids, 'What would you do if you saw another child crying on the playground?"
Kelsey Roberge's two children have both been involved in the program. Her two-and-a half-year-old daughter Madison started at four-months-old, while Roberge's 11-month-old son Samuel currently visits a Mamquam Elementary kindergarten class.
Roberge said the students in the class clearly learn from having a baby in their midst, but there are advantages for mom and baby too.
 "Baby Sam," as the class calls him, "seems to get a kick out of the visits."
Sam has also become somewhat of a local celebrity.
When the classroom students see him out at the grocery store or the park, Roberge said the students come running and are excited to introduce him to their parents.
–With files from Jennifer Thuncher