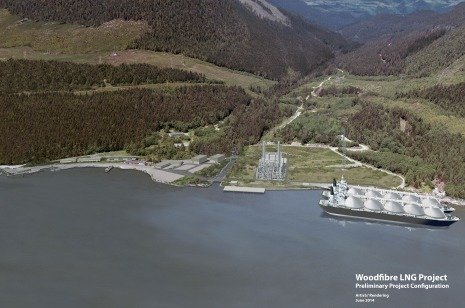 By Gagandeep Ghuman
Published: Aug 4, 2014
In 2005, when Woodfibre was in operation, the mill paid the district over $2 million in taxes. In 2014, it generated tax revenue of $135,314.
With no industry except the Terminals, Squamish has relied on residential taxes to pay for services since Woodfibre shut down.
In 2010, residential property taxes brought in 59.2 per cent, while major industry (port), brought only 2.10 per cent taxes to the district.
As a result, the average Squamish resident pays about 8 per cent more on taxes and user fees than the average British Columbian.

It's in this context that a question has come to be asked in Squamish: How much will Woodfibre LNG pay in taxes?
Proponents of Woodfibre LNG have a tax offer for Squamish. At a council meeting on July 15, the proponents proposed they will be willing to pay $2 million in annual taxes.
It's what the company is offering, but it's not a precisely calculated tax based on assessment.
At present, Woodfibre LNG doesn't have a precise number as a complete assessment picture is missing. In fact, there isn't even a property classification for the proposed LNG project.
But considering the public interest in the subject, the company decided to propose an agreement to the municipality.
Woodfibre LNG vice-president Byng Giraud said despite the public pressure to reveal more on taxes, an exact number has yet to be determined.
The company was told the normal procedure is to calculate construction costs, complete an assessment by BC Assessment Authority and then apply the municipal mill rate. They were also told only buildings are assessed, not machinery and equipment.
"As the project has not even entered the environmental assessment phase …we do not have construction costs at this level of detail yet, so struggle to find the answer to this question," Giraud said.
In order to provide the public with some sense of the magnitude and to attempt to respond to questions by local representatives, Woodfibre LNG did a rough analysis of potential property taxes, he added.
"We looked at the rates paid by the previous occupant and tried to judge what would be a reasonable point to begin discussions with local government."
Subheading: Onshore plant will minimise impact to marine life
 Woodfibre LNG will build an onshore natural gas liquefaction plant, a decision the proponents say was influenced by community concerns about the potential for noise and vibration impacts on marine life.
Woodfibre spokesperson Marion Ngo said the community concern was that the vibrations on the water would interfere marine mammals as they navigate, seek food and communicate with under water.
She said the on shore facility will retain the benefits of a floating facility while avoiding potential impacts to marina life.
In a media release, the Woodfibre LNG said the company expects to employee 500 people per year over the next two years and at least 100 full time staff at the facility during regular operations.
Tracey Saxby of My Sea to Sky said while moving the liquefaction plant reduces some of the potential noise and vibration impacts on marine life, there will still be significant noise and vibration impacts on marine life while the tankers are loading, caused by the loading pumps.
Saxby said that there are other issues associated with running this facility on electric power that need to be shared with the community.
"How will this increase the amount of flaring required when the plant is shut down? This will have impacts on visual aesthetics, light pollution, and air pollution for Squamish and Howe Sound."
But running the plant on electric power is one step closer to being a clean LNG, said Jeremy Moorhouse, a senior analyst with Clean Energy Canada.
In April, Moorhouse was part of a panel at Quest University which examined the environmental impact of the LNG industry.
Moorhouse said Clean Energy Canada's research has shown that by using electrical drives, a plan located on the Northwest Coast would reduce its carbon pollution by 45 per cent.
He said the study didn't specifically look at Squamish, but it can be safely assumed the carbon reductions will be even larger at Woodfibre LNG, because the company has said it intends to use grid electricity in its proposed plant.
"In B.C. grid power is 93 percent renewable," he added.
Environmental cleanup of the proposed site of a liquefied natural gas (LNG) plant beside Howe Sound is underway, said Byng Giraud, Woodfibre LNG vice-president.
"The clean-up of the site to industrial standards continues," he said.
"Dredging, which removed woodchips and waste wood from the foreshore was completed last fall. Since then, the focus has been on creating effective plans for soil remediation and the closing of old landfills."
The full remediation plan will be completed and sent to the provincial ministry of environment later this year, he added.
As of now, there is no construction happening at the site related to LNG project, but there is a staff doing maintenance work and operating a small power plant.
Byng said the company's environmental consultants have been on site to collect baseline data that is required for an assessment, along with engineers who have been overseeing geotechnical assessments.