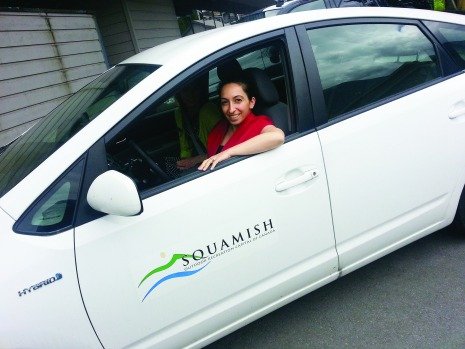 By Gagandeep Ghuman
Published: Aug 4, 2014
District of Squamish has reduced its greenhouse gas emissions by 106 tonnes in a year, according to Caroline Ashekian, the district environmental technician.
In 2012, the district operations emitted 1179 tonnes of CO2e. In 2013, that number dropped to 1073 tonnes of CO2e.
"We have proven that reducing GHG emissions is now part of our staff culture," she said.
Squamish signed the BC Climate Action Charter in December 2008, joining 180 municipalities who have committed to be carbon neutral by 2012.
The following two years, the district took part in the BC SmartTool Pilot Project and started reporting emissions in 2012.
To reduce emissions, Ashekian said the district has replaced or retrofitted instruments to green standards, bought more fuel-efficient vehicles, and supported energy efficient uses.
Last year, for example, light bulbs were replaced with more energy efficient LED lighting at the Brennan Park and an old hot water tank was also replaced with a newer energy efficient model.
"Our building managers make sure we replace older equipment with more energy-efficient models," she said.
Here are some of the steps taken by the district to reduce greenhouse gas emissions.
Implementing a community wide curbside residential yard waste collection program
Integrate GHG tracking mechanism into all RFP tenders
Continue development of a liquid waste management plan
Replacement of high bay lights with LED fixtures at Brennan Park.
Large gaps between doors and windows at the adventure sealed
Replace all roof top units in the forestry building for heat
As a signatory to the climate charter, the district had to be carbon neutral by 2012, or it would have to buy carbon offsets or invest in an offset eligible project.
At the current rate, the district will have to spend $29,474 to purchase offsets.
Ashekian said the district has undertaken an offset eligible project, specifically the curbside yard waste compost pickup.
"For carbon neutrality, we offset what we emit, because it is not possible to bring corporate emissions down to zero," she said.