By Kerry Eno
Published: Oct 25, 2014
Glenne Campbell slips easily into a Scottish accent:  "Mah dad's mother was  Scottish."  The self-identified pre-tiree has had a long career in costuming for film and television.  She couldn't say nay to a recent opportunity to work on the sci-fi series Outlander in Scotland. 
"I knew Outlander was my swan song," Campbell shares from a seat at her favourite neighbourhood restaurant, The Nest.
She took the opportunity to conduct ancestral research during her six-month working trip. "What I learned about my family? I learned my great grandmother was widowed at 48 with eight children under 12 in 1878.  All eight children stayed in Scotland until the year after their mom died.  After that, all eight went to Northern Alberta"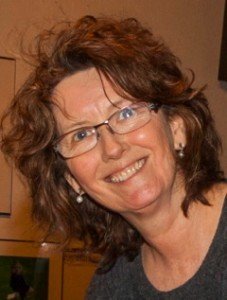 In 1972, Campbell was reading the Calgary Herald and came across an article about a unique gallery that was being built in a town full of artists. The town was Brackendale.  She remembers thinking:  "That's where I belong."
She arrived in 1996.  "I am a huge fan of the Brackendale Art Gallery and anything that goes on in Brackendale," she bubbles. "I go down to Judd Beach every day and pick up garbage with my dogs.  I usually start in March."
Like her great grandmother, Glenne became a single mother when she lost her husband all too soon. "I used to build airplanes.  My husband and I worked together on the first composite aircraft ever built in Canada.  We flew it around North America, the Caribbean."
Glenne and her son still live in the Brackendale home that she purchased with her husband.  This year, her sunflowers grew to a personal record of 15 feet.  "I have some in the front yard for the neighbours, some in the back for the birds."
Council candidate Campbell is currently enrolled in the UBC certificate in Cultural Planning and Development. The program emphasizes considerations of art and culture in municipal decision-making and planning processes.
Glenne wants to acknowledge all local artists and bring them out of hiding through processes like cultural mapping.  She wants to see a physical centre for the arts, a meeting place, built in Squamish in the next ten years.
Campbell prioritizes the physiological needs of community, specifically shelter and safety.  Her biggest community safety concern is: "The safety of development in the floodplain, so that nobody loses property or value. And more consistency in the planning staff with what they tell developers they can and cannot do."
Master of the one-liner, Glenne Campbell says that a person is either an activist or a couchivist.  She believes: "A person should think creatively instead of whining and complaining."
And she's done Letterman.
Here are some of the things she would like to achive.
1. A policy for affordable housing.
2. Developing a diversity of employment and business providers. Encouraging innovation and  challenging 20th century thinking.
3. Environment: Must do everything possible to improve the air, land, water, as well as provide a safe community environment as nature rebels with heavy blows occasionally.