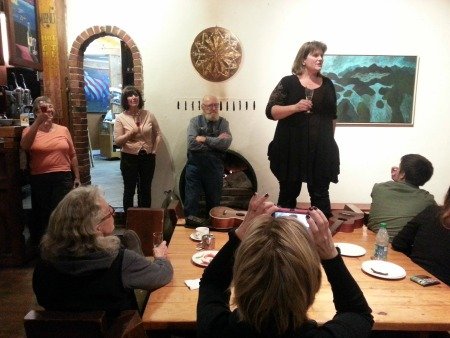 By Gagandeep Ghuman
Published: Nov. 16, 2014
Squamish voters elected Patricia Heintzman as their Mayor and brought in three new faces to the council in one of the most hotly-contested municipal election in recent history.
Heintzman defeated incumbent Mayor Rob Kirkham by 289 votes. She polled 2,900 votes, while Kirkham polled 2611 votes. The third mayoral candidate, Ron Bahm, got 428 votes.
Doug Race, Karen Elliott, Jason Blackmann-Wulff, Peter Kent, Ted Prior, and Susan Chapelle were elected in as councillors. (Unofficial results can be seen here)
With their vote, the community also voiced its opinion on LNG. Voters squarely rejected candidates who supported LNG and brought in those who voiced strong opposition to the project or at least raised concerns about it.
Voters also eroded the traditional power structure in town, electing candidates who are relatively new to town, educated, progressive, environmentally conscious and cosmopolitan in their attitude.
In an interview with the Reporter, Mayor-elect Patricia Heintzman said people were looking for change and were passionate to see it happen.
"People were really excited and engaged in this election," she said.
Heintzman said among other things her victory could be attributed to a younger demographic showing up to vote.
"They see in me their aspirations and how they would like to see their community grown," she said.
Mayor Rob Kirkham said he was 'very disappointed' with the results of the election.
"I'm very disappointed, but the community has made a choice,'" he said.
Kirkham said it's hard to interpret the result as an anti-LNG vote, adding that he has never suggested that he was in favour of the project without seeing the results of the Environment Assessment or getting input from the district-appointed LNG committee.
 "I just didn't think saying No to LNG was the best way to approach this," he said.
Elected for the third time with the highest number of votes, Doug Race called Kirkham a 'very competent mayor.'
"He was a very competent mayor and he made a significant contribution to our community," Race said.
Race said it's hard to read the vote as an anti-LNG vote, adding that it would be a shame if people voted just on that issue.