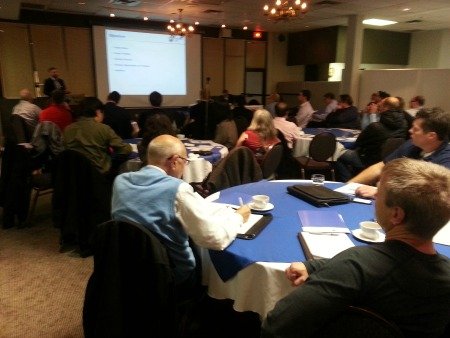 By Gagandeep Ghuman
Published: Nov. 29, 2014
The owner and employees of Baos Mechanical may live in Squamish, but they have to look for work in Surrey, Abbotsford and other Lower Mainland towns.
There just isn't a lot of work for the trades in Squamish, says operations manager Jay McKinney.
"If there was more work here, we wouldn't have to commute."

Baos Mechanical sources workers from the town they go to work in. It's an arrangement that works quite well for  those workers, but not for people like Tyler Langstaff, a gas outfitter with Baos Mechanical.
Born and raised in Squamish, Tyler Langstaff says he would like to live and work in Squamish.
"I'd like to live here, but I will have to go wherever the work takes me," he says.
By 2017, Langstaff hopes work will take him to Woodfibre.
Baos Mechanical was one of the local companies in attendance at the business information session organised by Woodfibre LNG at the Sea to Sky Hotel on Wednesday, Nov. 26.  
Also present in the crowd of 1oo people was Tom O'Brennan.
A resident of Squamish for 30 years, O'Brennan runs Wrench Tech contracting, a heavy equipment repair, welding, and steel fabrication company.
Unable to find meaningful work after the Olympics, O'Brennan moved north to work with Ledcor in a mining project. It was 'horrible' work, he says, and he decided to move back to Squamish to find work locally.
He also hopes to find some contracting work with Woodfibre LNG and believes Squamish needs some industry.
"There is a spot here for an industrial worker that isn't available now," he says.
There will be business opportunities for local companies in construction, remediation, marine transport, medical services and supplies, installation, structural fabrication, etc, company representatives told the gathering. 
WLNG will delegate its contracting work to a large EPC (Engineering, procurement, and construction) contractor who will then subcontract work to local companies.
The company's technical and engineering arm, PECTech, will design and construct the project and then hand it over to WLNG to operate.
The company plans to bring large constructed modules, about one-third of the project, from the Far East to be installed.  
But about one-third of the project—plant control centre, warehouse, heliport, pipes systems—will be constructed locally, said WLNG project director Alex Brigden.
He encouraged companies to register on the Woodfibre website so the company's contractors can have a ready access to local contractors.
Brigden also said the project will create 100 full-time jobs and 500 construction jobs. Some of the operational jobs may include jobs like a lab technician, warehouse helper, marine engineer, mechanic, fire team member, etc.
The company plans to hold a job fair in the spring of 2015.
Last week, the provincial government also launched a new website, (www.LNGBuyBC.ca) where local companies can register and pitch their goods and services to LNG proponents. Gordon Wilson, the program manager, said 300 companies have registered on the website.
As part of its ongoing series on LNG, the province will organise a seminar in Squamish on Dec 16 and 17th at the West Coast Railway Heritage Park.
The purpose of the seminar is to educate people about LNG and career options in the industry, Wilson said.