By Gagandeep Ghuman
Published: Dec 13, 2014
Kerry Brown is the first one to admit that accidents are rare for compressor stations. But when they happen, they can be catastrophic, he says.
Brown's family lives in Dentville within the 800 metre radius of the proposed compressor station that will pump gas to the Woodfibre LNG.
The compressor station is in the Business Park on Government Road next to the Blacktusk Storage, an empty lot used for parking during the Olympics.
Brown said he has asked FortisBC at least twice on their evacuation radius but they have ignored the question. The Fortis community representative noted their concerns in an official meeting, but never responded.
"They avoid public input and it seems like they are trying to hide something," he said.
Brown said in an early map he saw, Fortis was planning to put the compressor station on Watts Point. Cost saving is the only reason why Fortis is putting the compressor station in the business park.
"I admit that this is a very safe operation, but would it be safer outside the populated areas," he said.
Carol Greaves, media relations officer with Fortis, said the company has offered to purchase the land at the intersection of Industrial and Queens Way, but the offer is contingent on approvals.
She said Fortis looked at several sites but selected the present site because there were environmental and zoning issues with other locations.
"We own operate 11 compressor stations and we have never had an incident," she said.
Graham Currie from BC Oil and Gas Commission said the minimum distance between a compressor station and any residential subdivision is 100 metres. He said the commission hasn't yet received an application for this site, but it's expected that the proponent will meet the necessary regulatory requirements.
There have been four major incidents, according to BC Oil and Gas Commission.
Nov. 2007 – Gas release due to leaking valve. Valve was closed and repair made.
May 2008 – Fire from a flare caused a grass fire that could have threatened a compressor station. Fire was contained and extinguished.
Oct. 2008 – Vandalized pipeline caused a small leak in a flange at the compressor station. Line was depressurized and repaired.
 Oct. 2008 – A well feeding a compressor station caused over pressuring that resulted in a valve failure. Well was completely shut down and repairs made.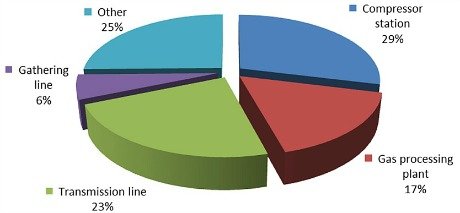 Pipeline concerns in Squamish
Fortis is also planning to twin its existing natural gas pipeline from Port Coquitlam to Squamish. The new pipeline, 24 inch thick, is expected to deliver 228 million cubic feet of gas every day to Woodfibre LNG.
For citizens like Herbert Vesley, the gas pipeline old and the proposed new pipeline will pass too close to home.
Vesley lives just 60 feet from the old pipeline and is concerned about the new pipeline being proposed. He wrote to the EAO in Victoria who told him there is no regulation on how far the pipeline should be from a home.
"In BC, there are no defined setbacks on residential areas, wrote Dan Motisca, a project assessment officer with EAO.
Vesley said the Gas Research Institute specifies a hazard setback of 660 feet for a 24-inch pipeline.
"What alternative routes that would avoid urban areas have been considered by Fortis," he said.
Another resident, Hans Schaer, said he is concerned about shut-off valves on the pipeline, but Fortis hasn't shared that information.
Fortis spokesperson Greaves said the shut-off valves are proprietary information of Fortis. She said the valves can be turned off manually and automatically. She claimed the recent compressor station incident in Saskatchewan happened because the station lacked shut off valves.
Eleven pipeline accidents were reported to the Transportation Safety Board of Canada in 2013, up from a total of seven accidents in 2012.
According to a CBC database, British Columbia experienced the most pipeline safety incidents for a single province, with 279 recorded events from 2000 to 2012 in the data set. Alberta came in second with 244 incidents, followed by Ontario with 146.
Fortis is applying for an EAO certificate in the next few weeks, and hopes to start construction in late 2015.