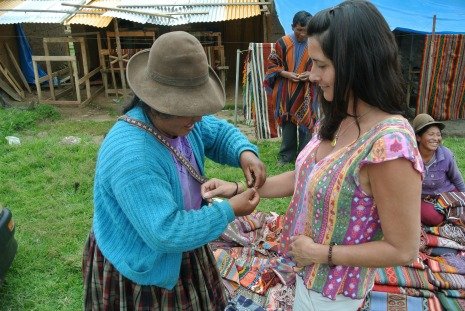 By Gagandeep Ghuman
Published: April 11, 2015
SHANNON Logan spent quiet meditative moments in a hammock at a retreat in Peru a few years ago. She could hear clearly in this early morning solitude the singsong of birds, the gentle rustling of trees. And in this stillness of being, her thoughts and feelings congealed into a desire that stemmed from the soul.
Stripped of fear and doubts, she realised whatever she did from this moment on had to be passionate, constructive, positive and helpful to others.
Logan decided she would start a business which would empower Peruvian women who often came to the retreat to sell blankets and ponchos. The soothing colours and the rich tapestry of the blankets contrasted starkly with the humble, talented lives that brought those fabrics to life. She thought she would find a way to help those women and enrich her own life in doing so. In any case, she had come to the retreat as a seeker, looking to renew herself as a more rooted, passionate and giving person.
She had been a successful businesswoman, but money, not meaning, defined the transactions. "I wanted more from life than just earning money," Logan said.

Opening a market for the ponchos and blankets in faraway Canada could make life more meaningful for both her and the women.
She could see the help was needed. The bag full of shoes and clothes she had brought from Squamish had already been staked. A nine-year-old boy often came wearing the red shoes she had brought, a reminder that her plans could go a long way in helping the vulnerable people. Before she left, she loaned money to the boy's family to buy a sewing machine.
A year later, Logan and her husband decided to take an unplanned trip to Cusco, Peru. She wanted to source products from this region, but knew no one there. She trusted her instincts when a cab driver offered to take them to a village where women made the products she sought
He took them to the village of Pisac, and introduced them to the women who made the ponchos and blankets Logan wanted. She heard stories of how the women walked for hours to nearby town to sell their products for which they rarely commanded the price they should. Logan left the village with a loan to the women to buy new machines for her social enterprise, Soul Stem.
Soul Stem operates on the principle of fair trade.  Logan pays them a much higher rate for the products than what they could get from their local markets. She also provides payment up front, which allows the women to buy more supplies and generate a steady income for their families. In the last two years, Logan has expanded her social enterprise to other countries such as Bolivia, Guatemala, and India.
The logos on the blankets tell the story, weaving other Canadian women in a global tapestry. "I think all of us women have a role in empowering each other, and I feel like I'm honouring the women who made these blankets," Logan says.
One of those women is Livia, a single mom in the village of Ayninakusunchis, who makes the products for Logan. The last time Logan was in her village, Livia cut her daughter's braid and gifted it to her as a momento of love and respect.
Logan has also implemented a micro loan program that is designed to assist artisans who need start-up funds for their materials or equipment. She provides the funds to start production, and then purchases the product at a fair trade price. She has sold close to a 1,000 blankets in Squamish and Whistler, but finding a suitable venue and marketing the business is a challenge. She sells the products at pop-up events and special exhibitions, and hosts fair trade parties where she can sell the products and also tell the story behind it. She is looking for more women who can be her representatives and host parties where they can sell the products and also share the stories.
When she first went to the retreat in Peru, Logan's aim was to heal and discover her essence. She has found it in Soul Stem Collective, binding women separated by geography with common threads of love and respect.