By Bianca Peters
Published: May 7, 2015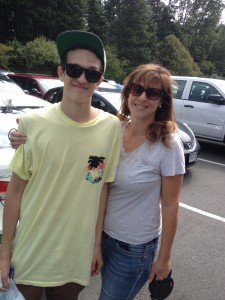 My best moment of motherhood that made the past 17 years of being a parent all worthwhile was when we received my son's acceptance letter to university. This was the ultimate achievement of success as a mother for me and I cried tears of immense pride for my son over his momentous accomplishment.
It only felt like yesterday that I was teaching my baby to show me his ears, his eyes, his nose; when he learned to wipe his bum and run his own bath; admiring his Art Attacks on the living room floor; driving him to guitar lessons, swimming lessons and school; editing the grammar on his homework; impressed by his integrity to maintain a vegetarian lifestyle; starting his first day of work; teaching him how to drive a car; all these things that brought us to this one moment, the ground floor of his adult life.
Motherhood is an intense yet fleeting journey to prepare your child to take on the world on their own. For me, the day he was accepted to university was the day he got his ticket to ride; to spread his wings, lift up from the nest and fly. To reach that point in the journey, when you know your kid's going to be all right, well, that was the best feeling in the whole world for me.