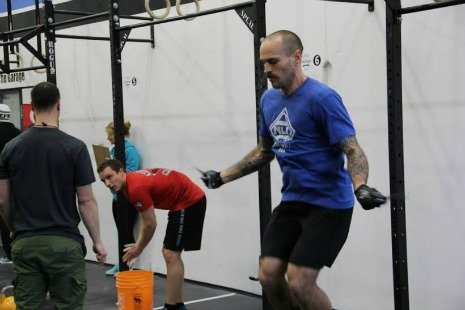 By Gagandeep Ghuman
Published: July 10, 2015
MONTHLY workshops on cooking skills, yoga, meditation, skill development, health and nutrition, anger management, addiction counselling and employment health: There is a lot that a men's centre can provide in Squamish, according to the man behind the initiative.
Zac Mchugh's Men's Centre project is one of the nine projects selected for a social venture challenge program supported by the Whistler Centre for Sustainability. Zac will receive $1200 and three months of coaching and mentoring to develop the men's centre. Originally from California, Zac said his plans to open men's centre stems from his own personal experience.
"I come from a background of abuse, poverty, drug addiction, alcoholism, mental illness, depression, jail and it wasn't until I found a healthy community that encouraged me to do better, be healthier, and be stronger that I was able to let go of the person I was," he said.
Having worked and volunteered at the Squamish Helping Hands Society, Zac said he saw there was a lack of services geared just towards men. Addiction, mental illness, abuse, lack of community and lack of healthy tools for mental and spiritual growth were just some of the issues he feels a men's centre may help with.  "I notice gaps in how men care for themselves and how they lacked the ability to accept or ask for help.  We want to create a safe place for men to have access to the resources needed for emotional, physical, and mental growth," he said.
Zac said he recognised a project such as the men's centre will take time to develop in Squamish but having been accepted into the social venture challenge, he is now putting together a team of qualified men who can offer support and mentorship.
"I'm working hard to make connections and develop relationships in our community because I believe everyone should belong to a community that gives healthy proactive support no matter what adversity they may be facing.   
Mchugh's life story is amazing in both its hurt and wonderful recovery. "My mother was a single mother raising five kids on $13 an hour.  I grew up in Murray Utah, right out side of Salt Lake City.  I grew up in the welfare system, before my step-father (my mother's current third marriage of 20+ years) came into our lives. We lived on food stamps, free school lunch program, hand-me-down or second-hand clothing, and the hard work of my mother to keep it all together. My father left when I was one, addicted to alcohol and heroin. My mother's second husband was a drunk and physically abused us kids," Mchugh says.
Mchugh  says he was also a victim of sexual abuse as well as having been exposed to physical and emotional abuse throughout his development.  "My entire life I felt like I was a good person and I did some incredible things, but it was always followed by self-destructive behaviours and some form of coping. I started drinking at 15, which was followed by many underage drinking infractions including a DUI when I was 19," he says.  Mchugh spent his youth developing a character to protect himself and to try and compensate for his insecurities. "I began fist-fighting young as a way to protect myself and it was important to my security as a male to be tough. I became addicted to cocaine for about a year or two in my late teens coupled with alcohol.  I always had a distorted image of myself and my body and of course I adopted eating disorders in order to fit my body into whatever image I was trying to fulfill," he says. He eventually had to move to California to remove himself from friend groups and unhealthy environments.  He had a major back surgery when he was 25 and was given access to pain killers.  He had struggled on and off with pain killers through his 20s.  In his mid 20s he was introduced to party drugs like Ecstasy and MDMA. 
"I somehow would jump from one drug to the next in search of some sort of  fulfillment. At one point, I was selling party drugs at night to afford my painkiller addiction during the day.  I don't want my whole life to sound like I spent it doing drugs and partying. I definitely did some very good things, always worked really hard, had incredible work ethic and always had a good heart.  I tried out a lot of different things in school, and professionally, as well as quite a bit of volunteer work.  I could never see any of the good things I was doing because I was always countering it with negative behaviours. I always was a good boy trying to be bad. My masculine culture told me this was the way to act.  My culture told me to chase women, chase money, be tough, fist fight, do drugs, hang out in bars, drive motorcycles, but most of all it just bred insecurities." And this is the culture he says need to be challenged by sensitising men.
Mchugh says when he was ready for a change he had to learn how to start giving to this system rather then taking from everyone he knew.  "As you start to take accountability for your life and your role in all of your problems, the universe parts way and gives you all the tools you need for recovery and sanity.  I was lucky to have fallen into the hands of amazing coaches and communities that encouraged the best form of myself. I am grateful to be the man I am and I owe all of this to my relationship with God. I know my experience was what I needed to go through so that I could find purpose," he says.
Mchugh could be the best person to run such a centre for all he has been through. "I know that men are struggling with similar circumstance and my purpose is to use all the tools and knowledge I am given to relieve some of that pain," he says.