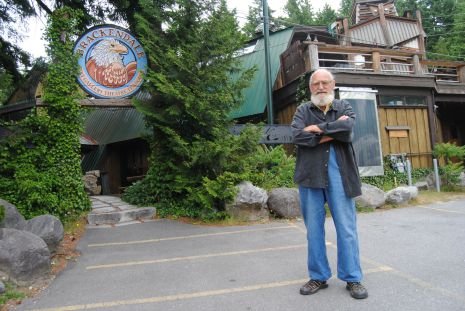 "I always had a circus in my backyard. Jorgen, a neighbourhood kid up the road, was the cannibal in the cage. But you couldn't really do that so really he was the insect eater, eating spiders out of a jar. Then I had the Andrews Sisters who were three girls living down the street singing together. Then I had lion tamers and so forth, but we didn't have lions, we had lizards. So I'd take my jacket off and put the lizards inside and put the jacket back on and then, my shtick as an 8 year old was, I'd take my jacket off and have these lizards crawling over me. I was the animal tamer. And we'd charge people…and then we'd go to the movies in the afternoon with the money we'd made."
Thor Froslev may not have known where his innate ability to gather like-minded folks would take him, but in many ways he's still that eight-year-old circus master: entrepreneurial, practical, sharp-eyed and opportunistic in the best sense of the word, with an almost supernatural gift to get people to do things that support his unrelenting vision.  Today, the circus that once played out in a backyard in Kgs Lyngby Denmark is manifest in one of the West Coast's most enigmatic cultural icons. And as ringmaster of the Brackendale Art Gallery, Thor continues to live out a whimsical narrative filled with idiosyncratic characters, gifted artists and a building reflective of himself: eclectic with an inimitable charm. 
The seeds of what was to become "The BAG", as its neighbours and patrons affectionately call it, which germinated in the inventive mind of a restless eight-year-old, really took root in Gastown's bohemian backdrop. In the late 1960s, Gastown was a mainstay of Vancouver's counterculture rife with artists of all walks and a trove of inspiration for the recently widowed Thor. And it was here that he observed, absorbed and learned about art, music, theatre, business and promotion. In these smoked-fueled coffee houses Thor found the kindred spirits who not only understood his wild ambition to build an art gallery in the woods, but also encouraged and supported him along this journey. 
Thor and his first wife Lis emigrated from Denmark to Vancouver in 1957, baby daughter Kaja in tow and an excess of new-world optimism fueling his way. Shortly after their arrival, Thor heard about the new highway along Howe Sound to Squamish.  On the family's first drive up the meandering Sea to Sky Highway in 1958 in their grey 1949 Pontiac Streamliner, he knew he'd found his zenith. 
"I said to my wife: we're a young couple just arrived here in Canada for a new life. This road just opened, this is meant to be, we should make our start right here," Thor recalls while sitting by the hot glow of the BAG's iconic round fireplace. "I thought about building a motel down near Leskie's crossing [at the south end of Brackendale]. But Lis wasn't convinced. She said to me, 'If you think I flew from Copenhagen to Vancouver and now I'm going to live in this little place you can forget it.' 
"Can you believe it?" says Thor with a wink. "We could have bought an acre for about $250."
But it would take more than 13 years for Thor to return to Brackendale. Lis and Thor stayed in the Lower Mainland and after a short stint as a furniture maker, Thor landed a job as an elevator operator at Gastown's Leckie Shoe Factory on Water Street.
He didn't last long as an elevator operator. Not because he wasn't good at the job but because it was the perfect way to meet managers and foreman and soon he'd talked his way on to the shop floor as a shoemaker. Three weeks after he started at the factory, Thor had increased his income threefold from $30 a week riding the elevators to $75 as one of the most productive shoemakers on the floor. When the factory closed in1959, Thor once again found himself without a job and after much perseverance, he got the job as a longshoreman and moved to his family to Tahsis on Vancouver Island.
Hard work on the docks of Tahsis was a great training ground for Thor but a serious bowel infection from contaminated water in Tahsis resulted in an operation and months of recovery and ultimately led to the family's return to Vancouver and a job on the docks there.
The following decade in Vancouver Thor calls his "long history of hangin' out". Vancouver was the "City of Love and Revolution" in the 60s, a wild flowering fueled by the cultural flow of Americans looking to escape the draft of the Vietnam War that acted as a catalyst for the hippie movement in Vancouver. Gastown, sandwiched between downtown and the seedier parts of the Lower East Side, was its pulsing centre. Thor couldn't get enough of the creative energy that flowed freely there. He was a sponge; he noticed everything from bowls and cutlery to how to hang art and how to get things done. He saw opportunity in the smallest detail. Gastown in the 60s and 70s was Thor's University, and his coming of age.
"Vancouver was full of creative people in the 60s," recalls Thor. "I mean I hung out in the Classical Joint from 8 o'clock at night to two in the morning because you'd sit four feet away from John Blair playing piano. And all these musicians that played in the symphony would come in after a concert, and they hadn't changed out of their black tie, and they would wail away and you were hanging with them. It was unbelievable."
The Classical Joint Coffeehouse, Vancouver's iconic nightspot tucked into a Gastown storefront in 1970 and owned by renown architect Andres Nothinger, was a beloved artifact of the hippy era in Vancouver built more out of a sense of community than commerce. The Classical Joint provided the perfect schooling for this dockworker with art gallery dreams.
But life almost always throws curve ball and when bike crash left Thor's wife Lis with a debilitating illness, life for Thor was forever changed. Lis' kidneys failed in 1967 and waiting lists for dialysis in Vancouver and Seattle forced Thor to fly Lis [and their children Kaya now 12 and son Kayne 6] back to Denmark for treatment. Thor stayed; a decision that haunted him for years but one he knew in his heart was the right one.
"Know thyself," says Thor of that distressing decision. "If I went to Denmark I wouldn't be able to do the things I had to do. I knew I wouldn't have the will to do those things if I went back to the regimented European lifestyle where the status quo was what was expected. I knew myself. British Columbia was the land of milk and honey and you could do whatever you had to do by just getting up off your ass and doing it."
With this insight and a cathartic moment of introspection and inspiration, Thor began to formulate a plan for his art gallery in the woods, and as he did so, he began to see a fundamental difference in his Danish friends and the creative individuals he was meeting in Gastown.
"When I mentioned my dream of building an art gallery in the woods to my Danish friends they would say 'ha ha' …and that's as far as it went. When I was in a Gastown coffeehouse and I'd say 'hey, I'm going to open an art gallery theatre teahouse' they would go 'oh fantastic, where and how can I help' and on and on it goes. I could never go back to Denmark because I knew if I did I would never come back to BC and I had this ache in my gut about this art gallery in the woods. I know I made the right decision, the only decision that I could, but it has always haunted me."
It was during this time as the 60s merged into the 70s that Thor met many like-minded people who would greatly influence his path and ultimately become co-conspirators in his dream.
Artist and entrepreneur Michael Malcolm was his go to guy. "If I had a problem or puzzle Michael was always there to figure out how to get it done."
Artists Chris Blades, Carl Chaplin, Toby Nilsson, David Lowe, Bob Masse and many other west coast paragons of Vancouver's thriving art community were partners in crime driving the procession of helpers and supporters, artists and performers that would provide impetus for Thor to finally gets his dream under way and grow it into what it is today.
In August 1969, 11 years after he and wife Lis trundled up the newly constructed Sea to Sky Highway, Thor was fishing the Cheakamus River at Brackendale with longtime fishing buddy and fellow longshoreman Gary Weir. As usual, Thor was talking about his art gallery dream when Weir interrupted: "I'm sick and tired of you spouting off what it is you're going to do. When are you going to shit or get off the pot?!"
Another fishing buddy Jack Grundell had once given Thor similar advice while fly fishing at Dragon Lake near Quesnel: it doesn't matter where you put your art gallery, as long as you do a good job, they'll find you. So when Weir reiterated the same sentiments in more colourful longshoreman's language during that fateful fishing trip to Brackendale, it was freedom to Thor.
"We packed up our fishing gear and headed to Brackendale, right here," says Thor pointing down to the well-worn fir planks of the art gallery floor. "Right next door there was an alpine café and service station and Mr. Boomer was famous for his pumpkin pie. We were having coffee and pie and whipping cream, and I took a bite and looked north out of the window and a sign reads: half-acre commercial property for sale and a phone number. It was just like that. I phoned up the guy and in January 1970 I bought the land and I borrowed $1,000 from Gary to buy it."
That was the easy part. Now came the challenge of determining exactly how this vision would unfold. But Thor's a practical guy with an observant eye and he soon began to see vignettes of what was to become the Brackendale Art Gallery in landscapes across the province and beyond. He had one underlying principle always at the heart of his design; it had to be true to the West Coast sense of place.
Shortly after making an offer on the property, he brought his idea to Squamish municipal Council. He arrived at council chambers in his best blue blazer, white turtleneck and a pipe; his moustache trimmed just right, haute couture compared to his standard coveralls and clogs. Mayor Pat Brennan tried to convince Thor to take a lease out on the small A-frame building at Highway 99 and Clarke drive where the visitor information centre was at the time. Unconvinced, Thor knew he had to be in control. It was his lifesavings and dream after all, and he knew his art gallery had to happen in Brackendale on his own land. Council of the day was suitably impressed with his plan and gave him their blessing…in principle, which is all he needed.
Then came a two-year journey of planning and collecting, says Thor.
"When I bought the land, I sold my place in the city and bought a one-ton flatbed truck. It was the first thing I bought, it was $375. But it ran and it was a flatbed…what else do you need?"
Some people chase ambulances; Thor chased demolitions. A building demolition on Granville Island or the waterfront in New Westminster and Thor would be there with his flatbed truck.  One day a friend called him up and said he'd seen a bunch of 6 by 12 inch beams down by the Fraser River. So Thor went to the Classical Joint, collected a motley crew to load up his truck and took the wood home. He lived at 6th and Main Street in Vancouver in a basement suite at the time and he was slowly filling his yard with his construction booty.  Someone gave him 50 sheets of ¾ inch marine grade walnut plywood. He loaded and unloaded, again and again.
"I picked up a lot of free material that way," says Thor as his eyes scan the gallery. "I can look at it right now, throughout the gallery. This building is solid."
It took the better part of two years to collect the supplies…and to get his "wits about him" as he finally confronted the pervasive question of what to build? 
"As I went fly fishing around the country, this North American-style barn kept popping up on the landscape. I read somewhere that when you build a house it should reflect the community; it has to be real to the place. We were driving home from fishing one time and I saw this barn in Dewdney that was 30 by 60 feet. I knocked on the door and asked the people if I could check out their barn because I was going to build one. So I went in there with a 6-foot 2 by 4 [as a measure] and I played house like my sister used to do…this is going to go here, this over there, the fireplace over here. And when I walked out a few hours later, I knew I could do such a building.
"I had Michael Malcolm there all the time and I thought he's usually right…he showed me what was right. So I went home and at his urging I built a model, one inch to a foot. Just make it simple I told myself. And I built the model with posts and beams and a fireplace, just like you see it here.
"I thought about that Mickey Rooney, Judy Garland movie Babes in Arms when they make a theatre in a barn. Or Summer Stock with Garland, Gene Kelley and Eddie Bracken where they also transform a barn into a theatre. They didn't think about it, they just did it. I mean in the movies they just do it. And that's how I see everything; you just do it…right. "
Thor knew he still had challenges to come. Although his crew of free-spirited artists was enthusiastic and well intentioned to a fault, Thor needed specific construction skills to erect his creation. As usual, Thor had a plan.
"One of my good fortunes was that at the Alpine Café next door, at 7 o'clock every morning all the tradesmen would come and have coffee," recalls Thor with a mischievous glint in his eye. "So I was there every morning asking how do you do this, and how do you do that, and then I'd go back and tell my crew how to do it. I learned this from Woody Guthrie who would go to music school in the morning and he had his students playing what he'd learned that morning in the afternoon."
On the advice of Andreas Nothinger, Thor brought his model to architect Hanna Skarpsky. He asked her for a minimal plan and an inventory of the materials he would need to build it. She gave Thor all that and a bill for $53.
May 15, 1972, Thor drove up the Sea to Sky Highway, revved up his chainsaw and started clearing.
To appreciate Thor's leap of faith, one must put into context what it meant to bring the eclectic creative people of Gastown and a crazy idea for an art gallery, theatre teahouse to a small BC logging town in the early 1970s; Thor knew he had to figure out a way to integrate into the community.
While fly fishing one day with City of Vancouver detectives Colin McPhail and Bill Young one day, he asked them what they thought would happen when he arrives in Brackendale and starts building an art gallery on the main highway to Whistler. He was worried it would look like an anthill of longhaired hippies had invaded the sleepy logging town. Their advice: go and see the area's staff sergeant, "hat in hand", so he knows what's happening and in so doing, give confidence to the neighbourhood that everything was above board and positive for the community.
"I'd been up here three weeks when I told myself 'good advice is hard to find' and I took my briefcase, put my blueprints in it, put my farmer hat on my head, knocked on the door of the RCMP and asked to see the staff sergeant. He invited me in and I took my hat off and put it underneath my arm and I gave him my hand and said who I was and I took over his desk and rolled out my blueprints. This is what I'm doing and thank you very much and the police have never been anything but help in all the time I've been here.
"When I would go away I'd still have a crew working so I'd phone them [the police] up and say, 'I've got to go see this artist or whatever the case may be, but don't bother the people there, they're just building away.' When I get home I'd call them up and ask how things were while I was away and they'd say 'fine'.  It's so important to be neighbourly, to get to know the people around you."
Getting to know the neighbours became a mission for Thor, something he knew was pivotal in the gallery's success.
Alderman Alma Cunningham and her husband Arnold lived across the street from the BAG at that time. She ran everything with an iron fist, Thor recalls. You could always hear her talk loudly and clearly. She was a forced to be reckoned with so naturally he went over to borrow her wheelbarrow.
"One of the things you do when you're a neighbour in logistics like this is to act neighbourly," says Thor. "It is inherent in our culture, you're programmed to be neighbourly when someone asks to borrow something like a wheelbarrow. A simple thing like that you would automatically say yes to. Nobody would say no. So I went to her first to try out my thesis, and sure enough it worked."
His next target was Mrs. Wilson who lived up the road and then Mrs. Campbell who lived across the street from Brackendale Elementary School and had a large ladder leaning outside her house.
"So I knocked on her door and asked her if I could possibly borrow her ladder. She said yes and then I didn't bring it back on purpose because it gave me an opportunity to have Mrs. Campbell approach me at the post office. So of course she did and I apologized profusely and she responded with, 'don't worry about it. Bring it by when you have the chance.' That's how you get to know your neighbours."
From the beginning, the BAG seemed to have a magnetic pull on like-minded people; they just seemed to appear and somehow Thor, with his innate sense of what and who was needed, and how to get it, began to attract his new community of "circus performers."
"Peter Clarke was just hiking by one day," says Thor, "and he had a camera so I said: 'I see you walk by here every day with your camera, so if you could take a picture every time you go by so we can see the growth of the building that would be great."
They became fast friends as Clarke continued to chronicle the gallery's progress for many years to come. Many more photographers and artists found themselves in the BAG's gravitational pull. They would journey up from the city, stay 3-4 days, work on the gallery and hopefully learn something during their stay. If someone started to sit down on the job, circus master Thor would swoop down on the lollygagger before the inactivity spread.
"I would tell them, when you sit down then someone else sits down and then everybody sits down. That's what's happening and that can never happen or this will never get built. So if you're tired and you want some time off, take my truck and drive up to Alice Lake, spend whatever time you need and then come back and get to work and we're cool. And that what they did and we just kept on working."
While building the gallery, Thor was living in an old gypsy caravan he'd bought for $65 and with the help of friend and poet Drummond Burge, he fixed it up with a stove and made it into a livable wagon although he continued to work full time on the Vancouver docks until 1985. That initial phase of the gallery, the one that looks like the barn in Dewdney, soon grew to include a workshop on the south end in 1974, in what is now the main residence, and by the end of the 70s Thor added a proper commercial kitchen between the gallery and the workshop.
So how do you feed all these people?
"You make a daily stew," says Thor matter-of-factly. "Jerry Napp and I would drive to Pemberton and buy a sheep all skinned. Then we would take it into the gallery, put a big plastic sheet over the table and throw that carcass on there. Jerry was a butcher, and you talk about learning from people who know their stuff, boy he knew his stuff. So we're cutting it up and all of a sudden there are half a dozen people in the gallery looking at us. It must have been quite a sight. I forgot to close the gallery door. So I told them we were doing an art exhibit on the working man's capabilities."
Jerry's butchering was the feature artist, Thor says with a chuckle. Two years after opening his doors, when his energies should have been focused on his fledgling business, Thor decides to enter politics.
It was also during this time that Thor's Nephew Kelvin Johnson came to live with him and thus became a fixture at the BAG throughout the 70s and early 80s. When the initial building was finally done and it was time to run a restaurant it was Kelvin whom Thor turned to.
As fortune would have it, Thor met his current wife Dorte around this time as well. For years Dorte's family had been making the journey up Howe Sound from their North Vancouver home to go hiking in the area. A visit to the BAG became a regular part of a Jansen family excursion to the area, particularly when hosting visitors from Denmark.
"I remember we had an exhibition on the Houses of Hornby Island that featured photography, blueprints and a slideshow of the funky and unique houses built there in the 1960s, and Dorte was here with a couple of engineers from Denmark and her mother Eva," Thor recalls of that fateful day. "And as they were leaving I ran out to the parking lot and asked her if she'd like to go out for dinner sometime.
"We went on a double date with Chris Blades and his girlfriend and as they say, the rest is history," Thor says with a smile.
But to get Dorte, a high school art teacher to move to Brackendale from North Vancouver, proper living quarters had to be provided. Thor and Kelvin converted the workshop into a cozy living space around which Dorte has since cultivated her spectacular garden.
Dorte's mom Eva ran a gourmet cooking school in Vancouver at this time Thor enrolled Kelvin in Eva's cooking school. With amusement, Thor recalls how this young, long frizzy black haired boy stood out amongst the 50-year-old urban clientele at the cooking school. Kelvin worked for Thor for many years, starting out as cook and doing anything else that was needed.
As the 70s progressed into the 80s, many of BC's musical innovators flocked to Brackendale to play at the BAG. Regulars over the past four decades include: Alex Bruhanski, Norm Foote, Roy Forbes, Paul Hann, Dan Hill, Paul Horn, Joe Mock, Anne and Jane Mortifee, the Purcell String Quartet, Rick Scott, Tamahnous Theatre, Shari Ulrich, Gordon White, The Paperboys, John Mann, Barney and Dustin Benthall, and of course Valdy!
Theatre also came to the BAG in the mid 70s. Patty Malcolm English, famed theatre teacher and Michael Malcolm's mother, asked Thor if he had a theatre company "up there in Brackendale". Thor called Mayor Brennan, a man he greatly admired, to ask about the local theatre scene. The Mayor gave Thor a few names —Doreen Ramus, Mrs. Haffey — and thus started the long history of theatre performances at the BAG.
The first performance was Oscar Wilde's The Importance of Being Ernest followed by Arsenic and Old Lace by Joseph Kesselring on the stage that is now the main entrance at the BAG. Thespians of the day, the Cudmores, Hotstons and Prices, still well-known community members in Squamish today, followed up with a black comedy. By the end of the 70s it became evident that a larger stage and more audience space was needed. And as usual, things fell into place, guided skillfully by Thor, the circus master.
"There comes a time when you realize you have to grow," says Thor. "People in the community got wind of what was going on and came out to support it. Cardinal Concrete donated the concrete for the new stage. Nick Candy came by with his backhoe and dug up the area for the foundation. I was looking for big beams and they were tearing down a jail in New Westminster but I missed them. A friend of mine found 40-foot-long beams for sale from a gas station demolition out in Cloverdale. He had six beams stacked up in his chicken coop that he wanted to take down so he wanted to get rid of them. I made him an offer he couldn't refuse. When I saw them, I realized that if I can get those beams, I could go ahead with bearing loads, architecture, I can go ahead with the foundation, I can go ahead and build. So all I needed was a sum of money.
"I realized the only person that could lend me the money was my wife Dorte. So when she got home from work I jumped in the car and said I need to borrow $1,100. I need to buy these beams."
It took a few years but a new stage addition that included the balcony, greenroom and light and sound systems was completed in 1986. Growth at the BAG has continued to evolve naturally over the years. The secret is simple says Thor. You take care of your peers and keep adding on to meet those needs in the community.
It was about this time that Thor got the idea of the casting wall; so many artists and performers had made their mark in these hallowed walls and there needed to be a way to immortalize them, to honour their perseverance and their creative spirit.
"You think of all the painters and sculptors and musicians that have come through here," says Thor. "You think of all these talented people. You think about what they go through to get there. I'm not an artist. I wasn't prepared to put my time in for that, but I really admired the commitment these artists make. It became very essential to me, clear to me that it was more important to say "us" and "we" than "I" and "me". That became a driving force for me. So I needed to honour that, to honour the artists, the contributors."
Thor's Nephew Kelvin was the first person to get his face cast for the BAG's famous casting wall. Then Kelvin did one of Thor and Dorte, followed by good friend Bill Jackson. The process was refined and it developed into an ongoing fundraising initiative; for $100, anyone can get their face on the wall and contribute to the sustainability of the gallery. Over the past three decades more than 215 people's faces have been cast and now grace the BAG's outer wall including some of BC most celebrated artists and environmentalists. It's a lot of work says Thor, but well worth it as so many BAG suppoters are now immortalized. Look closely at these enigmatic walls and you'll find Robert Bateman, Tara and David Suzuki, Paul Watson, Bill Henderson, Paul Horn, Valdy, Barney Benthall, Michael Dunn, Ian MacConkey, Jim Byrne, Henry York Mann and George Rammel to name just a few of the many community builders, supporters and famous Canadians to be found on the BAG's casting wall.
But the most defining element of the Thor and the BAG's evolution came in the mid 1980s when Thor began a passionate relationship with the feathered visitors who call Brackendale home every winter.
It was a stormy January morning in 1986, when Thor saw a handful of rain-drenched people counting bald eagles as part of a monthly bird count. He invited them into the gallery for warm drinks and soup and ever since then the BAG has been home to the Brackendale Winter Eagle Festival and Count. Over the Festival's 25 years, hundreds of volunteers have been meeting at the Brackendale Art Gallery in the early morning of the first Sunday in January before setting out on foot, raft or kayak, binoculars in hand to 22 different counting areas along the Squamish, Cheakamus and Mamquam Rivers and their tributaries.
The main purpose of the count is to take a yearly scientific snapshot, the results of which are sent to BC Wildlife Service for posterity. But the Brackendale Winter Eagle Festival is also about awareness, says Thor, to the greater conservation issues and ecological imperatives that sustain the surrounding ecosystem.
"In the past 25 years, we have seen many changes and events come to pass that have continually reinforced our goal to preserve and enhance the unique natural phenomenon that is the Eagles of Brackendale," says Thor Froslev with the conviction of a man driven. "Without education and awareness, without the scientific data to understand the environmental and manmade influences on the ecosystem, catastrophic and incremental, without the dedication of so many volunteers and advocates, we would likely not have these special birds in our area and with that loss, there would likely be no salmon and other wildlife…it's all connected."
Thor's rapturous bond with the eagles is perhaps best exemplified in the formation of the Brackendale Eagles Provincial Park. When logging threatened the West Side of the Squamish River in 1995, critical habitat for wintering American bald eagles on BC's coast, Thor and good friend Len "Lefty" Goldsmith led the charge for the preservation of this habitat. Buoyed by a world record count of 3,769 eagles in 1994, Thor and Lefty and others successfully convinced the Nature Conservancy was convinced to purchase the land in question and then in 1997 persuaded the provincial government to declare the area a provincial wildlife reserve. Finally, in June 1999, the area officially became The Brackendale Eagles Class A Provincial Park.
Since the development of the 1,866-acre Provincial Park, Thor has continued to focus on education and awareness to ensure the survival of the area's wintering bald eagles. In 2003, foundations were laid for the Brackendale Eagle Tower & Aid Station where Thor envisioned a centre that could provide a facility for the study and care of these marvelous raptors. Over the past several years, Thor and Dorte have provided triage and first aid to many raptors. In 2010 alone, 4 eagles, 3 owls, 3 sharp-shinned hawks and a seagull were treated at the BAG's Eagle Aid Station. Birds that need a few days of recovery and care are released back into the wilds of Brackendale. Raptors with more significant injury are treated and stabilized and transferred to OWL [Orphaned Wildlife Rehabilitation Society] in Delta where they provide further rehabilitation and ongoing care.
Thor's advocacy for his home of Brackendale continues to this day. While the gallery continues to be a vibrant centre for art and ideas, with workshops, concerts, art shows and lectures, it also provides a hub for the residents of the area and the gateway to the village's beloved Brackendale Farmer's Institute Walking Park. This 50-acre park just behind the gallery has been a focus for Thor and Dorte for many years. Although development threatened the park existence, through Thor's dogged determination and leadership to preserve this community amenity it appears the final battle has been won, local government and Squamish First Nation have committed to its preservation assuring the park's survival in perpetuity.
The Brackendale Art Gallery continues to reinvent itself and play an integral role in the cultural tapestry of the Sea to Sky Corridor. It's hallowed walls echo the creative sounds and visual delights of the performers and artists who have enlivened it over the past four decades.
It's amazing what can start as a circus act in the mind of an eight-year-old boy from Kgs Lyngby Denmark. The secret: dream big, and just do it.