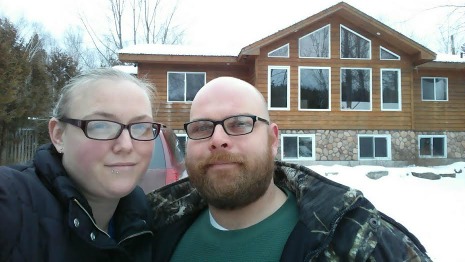 By Gagandeep Ghuman
Published: March 13, 2016
WHEN Kelly Smith MacDonald drove off from Squamish to make a new life in Kelowna it felt as if she was grieving the loss of a loved one. As the car went up the hill before the Chief parking lot, she kept looking at the side-view mirror and tears welled up in her eyes. It was a difficult decision to leave the town she loved and grew up in but things had come to such a pass that there was no other option.
The decision had been made a few months ago when they received a phone call while they were on a vacation in Kelowna. It was from their property manager who told them the three-bedroom townhome they were renting out had been sold. They had not seen it coming; it was a private sale and the owner wanted them to vacate the home for the new owners.
It seemed like the beginning of a familiar yet depressing routine of scouring the newspaper and Craigslist to find affordable rentals for the family, which includes her husband Jeff MacDonald, three daughters and a dog named Scout. Both Kelly and her husband had grown up in Squamish and had been renting for the last five years in the hopes of saving enough one day to find a home for their growing family.
In 2008, they rented a four-bedroom house in Valleycliffe for $1,450 and moved two years later to another house in Brackendale after the birth of their first daughter. They were now paying $1,800 but it was a nice house and they were able to pay the rent and yet within a year of moving they had to find a home once again because the house had now been sold. They moved to a smaller townhouse and were paying $1850 but were asked to vacate the home because it had been sold in a quick private sale as the real estate market picked up.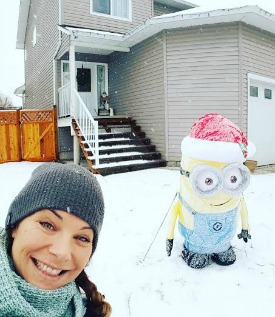 "We always wanted to buy and even tried but then it became more and more discouraging. I was so tired from moving and knew that next time I had to move, it better be in my own home. I'd move into a home and decorate it and then it was time to leave. I get that Squamish needs to grow but it was just disgusting that I couldn't find a home in the place I grew up in," she said.
When they received the call from the property manager, Kelly said she knew that she was done with finding a place in Squamish. They visited Kelowna often to see her sister and they decided that the city would be a good place to make a new home. Kelly says her entire childhood flashed in front of her eyes the day the family left Squamish.
"Playing baseball at Brennan Parks when we were kids, walking to the outdoor public pool, Loggers Sports Days, Dairy Queen, Friday night dinners with my mom and dad and sisters at Mykanos and getting to drink Shirley Temples, learning to drive, partying as a teenager in the old industrial park, graduating, giving birth to all three of my girls in the Squamish Hospital, bringing them home for the first time, losing my dad in that same hospital…too many memories to recall," she says.
Leaving Squamish meant more than just moving to another town, Kelly says. "It meant leaving my Dad at the cemetery. It meant leaving our friends whom we love and have known for years. It meant leaving my mom and sister in North Van and being further away from them. It meant leaving everything we've ever known and were familiar with," she says.
But it also meant they could put the past behind and focus on the future, a fresh new start in a place that was affordable and had more to offer for children.
The MacDonalds have rented out a huge house with a garage, rec room and even though her eldest daughter is struggling to make new friends, Kelly says she is happy to have made the decision to move out of Squamish. Driving into Kelowna, Kelly says, she felt a brief moment of panic, the feeling that she couldn't turn around and go 'home' but it was momentary. Now she feels wonderful and proud of taking such a big decision.
"It was sad to leave Squamish. It was my hometown. I grew up there. I miss my friends. I miss the familiarity. Most of all I miss being closer to my mom and I also miss being able to visit my dad at the cemetery. But it feels as though a weight has been lifted off my shoulders. Leaving Squamish was like closing that final chapter. I know in my heart it was time. Right now, in this moment, I couldn't be happier," she says.
Four years ago, Shalvenie Singh and her husband moved back to Squamish from North Vancouver so they could be close to the family and save money for a down payment. She grew up in Valleycliffe and graduated from Howe Sound Secondary School before moving to North Vancouver where she worked for five years before deciding to move back to raise a family in the town she grew up in. 
Living in the city would make it more difficult to save up for a down payment and she wanted to come back to the town where she grew up. At the time, her father was undergoing some serious health issues, and by moving back, she could be close to her family and be able to support them while saving for a down payment to buy a house. Everything seemed to be working out well: she found a really good job working at the Flight Centre and they started saving money for a down payment on a condo or a home. 
But they soon realised that neither could work locally to save enough to buy a place. 
"In order to sustain living in Squamish, both of us would have to work and commute to Vancouver or Whistler. As we started looking at more places in Squamish, we realized that our money was not going to get us far. The only thing we could afford was a unit in a condo. We would never be able to afford our dream, which is to own a house with a yard," she says.
They looked at other suburbs of Vancouver and came to the conclusion that there was nothing available for a single family home that would also enable them to live close to the family in Squamish. They looked at buying in Britannia Beach, Pemberton, Chilliwack and even back in California, where Shalvenie's husband, Schick Singh, is originally from.
They started looking at homes on Vancouver Island and finally decided to move to Victoria, where Shalvenie found a job working for Carmanah Technology, a company that manufactures LED lights and solar power equipment. They have found a two-bedroom, two-bathroom home for under $200,000 with a yard just a few minutes from downtown Victoria. Shalvenie is also taking a course at Camouson College and is enjoying living in a big city but one which still has a small town feel to it.
The first few months in Victoria brought a mix of emotions—pride at being a home owner and sadness at being so far away from home. Every time they come back to Victoria it takes a few days to get over the sadness of being away from the family. Victoria, Shalvenie says, was a starting point, to get the foot into home ownership. They also plan at some point to move North on the Island to cut down on the travel time to visit Squamish.
"Now that we are living on the island, the door is open to check out some of the smaller cities here. We have met some excellent people and we both hold jobs that we wouldn't be able to do if we were living in Squamish," she says.
The biggest challenges for the family is the cost of visiting Squamish (the ferry) and how far they are from their loved ones, which brings guilt, regret and a sense of being powerless and disconnected.
"I was devastated to leave Squamish and to leave my family behind. My parents, my two older sisters and their husbands, my two nephews, my aunt and uncle, my cousin, his wife and my nieces are all people who live in Squamish. My entire immediate family is in Squamish so it was a difficult choice," Shalvenie says.
Shalvenie says she regrets that she is unable to support or help her aging parents, especially her dad who underwent a kidney transplant 18 months ago. "We miss all of the milestones in the lives of our nieces and nephews. I am unable to support or help my aging parents. We keep in touch with our loved ones via Skype, phone calls and Facebook but nothing replaces being with them in person."
They thought about it for six years and in 2014 Brad Parker and Lauren Coutts finally decided to leave Squamish and head to the town of Peterborough in Ontario.
Here in Squamish, they knew they wouldn't be able to afford a single-family home for their family of six. Brad had a stable, unionized work as a support worker in downtown Vancouver but Lauren stayed at home to take care of their four daughters. They shared a Valleycliffe home with another family, who discounted the rent in exchange for childcare provided by Coutts.
They did plan to buy a home in Squamish but they could barely afford to buy even a townhome which they knew would be insufficient for a family of six. In Peterborough, where Brad is originally from, they planned to buy a rural property with acreage for under $250,000 and with a child in government-paid junior kindergarten, Lauren would be able to look for a job. They won't have the mountains but they would at least have money in their pocket, they reckoned.
Life has gone exactly according to that plan, says an excited Lauren over the phone from Linsday, a small community near Peterborough where they now live on a half-acre lot they bought for $225,000. It's a six-bedroom, three bathroom house in a subdivision that gives them access to their boat. The house needed a bit of a work and they have put a little money in it and yet it would have cost them three or four times if they had to buy the same house in Squamish. They get to own and live in a house they had only dreamt of when they were in Squamish, where they paid $2,400 dollars in a shared house. In Peterborough, they pay $650 in mortgage and even when they include taxes, insurance and maintenance, the monthly bill still comes to well under a $1,000.
"We couldn't even have saved money for a down payment because it was costing us so much just to get by. And we looked at what was available and we hoped to put a five per cent down but even at that minimum down payment all we could have afforded would be a condo and that was not even an option for our family," she says.
Now that they have their own place, Lauren and Brad are focussed on establishing their careers. As he had planned, Brad now drives a truck and Lauren works with a home support for seniors. She missed her friends but says she has been able to make new friends at her work place and in the small community they call home. It helps that Peterborough, a city of 80,000 people, is only 30 minutes away and has all the amenities they need. 
The winters are cold but they try to enjoy them as much as they can.
"Well, there is good and bad. We have snowmobiles and we are riding around and enjoying the snow and I like that there are four seasons and we have a beautiful autumn. We got lot less rain here and snow is just one piece of the puzzle," Lauren says.
Most importantly, Lauren says, she has the things that matter to her the most: a home, health care and education for her family. A lower mortgage leaves some money every month for entertainment. Her Facebook page is a frequent reminder to her of an ordeal she went through and many of her friends go through in Squamish of finding a decent place to stay and hoping they won't be asked to leave soon or pay more.
"I see it on Facebook all the time, 'Oh they are selling the house, Oh I have to move again'. I have friends who move every two years and there is no security in that. In the last 10 years, we moved eight times in Squamish and now I'm really happy with how things are and I want to keep them that way. I miss my friends but I don't have any regrets. I'm living the dream," she says.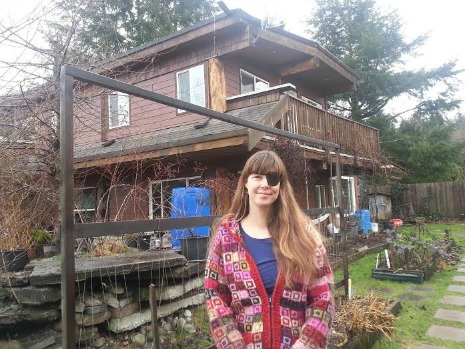 She wasn't born here but she loved and was loved by Squamish enough to make her feel like home. Carolyn Morris moved to Squamish 11 years ago to take up a teaching job at a local school, but ended up staying for good. She has been the face of Squamish Farmers Market and a passionate advocate for food security in Squamish.
But as much as Carolyn loves the town and the friends she has made over the last 11 years, she is now moving to pursue a dream that seems more and more implausible to realise here in town. Carolyn will be moving next month to Vancouver Island, where she has a much better chances of buying a property to realise her dream of building a home. She has been saving over the years to buy a property in Squamish but now that dream seems elusive. "I always had the homestead dream and it was a matter of working and saving and then finding land and property for this but the more research I did, the harder it seemed that I would get to own a property here in Squamish," she says.
There was limited inventory of smaller farms available and the ones that were available closer to town were prohibitively expensive. The only other option for her was to buy something in Paradise Valley, which would have been too isolating. Last summer, Carolyn went to the Island and saw a number of smaller farms available at affordable prices and also closer to nearby towns. "I will be renting out first to know the area and then I will look for some land and buy some acreage at a place where I can interact with the neighbouring community and it's not too isolating," she says.
Carolyn grew up in Ontario and lived a traditional 'meat and potato' life until she started questioning the conventional lifestyle of excessive and market-driven food consumption. A self-professed hippie, she travelled to India and spent time in the ashrams and other alternative communities before coming back to Canada and getting her teaching certificate in Outdoor and Experiential learning from Queens University.
When she saw a job posting for a school teacher at Waldorf school in Valleycliffe, she packed her bags and drove all the way to Squamish. "I looked at the map and saw that it was near the coast and between Vancouver and Whistler so I knew it would be beautiful. I thought I'd be here for three years but I just fell in love with Squamish," she says.
Carolyn picked up a job as a market manager and later resigned from her teaching job to work full time at the market, working and designing the community garden and working improving the food security in the community. She will miss hiking in the trails and the abundant nature around her as much as she will miss the friendships she formed in the last 11 years in town.
"When I first came here, I found it to be quite industrial and a more conservative, old-fashioned town, but it's amazing to see it boom with all the young families and recreational activities," she says.
Compared to 2014, last year has been far busier for local realtor Liane Van Raalte, with referrals coming from clients whose friends and family now want to move to Squamish.  The real estate prices started to rise quickly from last January onwards with growing demand and limited inventory.  It's more work and longer hours for Raalte but she isn't complaining. "I've already doubled to where I was at this time. My referrals have grown exponentially. And part of that is the people I have sold homes have a lot of friends moving here," she says.
It's not unusual, Liane says, to see homes that have multiple offers on them and it's becoming much more common to hear of sales of a million dollar home. She  says Squamish was always undervalued for a community that lies between Whistler and Vancouver and is still relatively affordable compared to other Lower Mainland communities. The real estate boom was propelled by the gondola and the generous media attention that came with it, but it was a long time coming, she says. "It's good to see Squamish boom. For me, this boom in real estate was always expected but it didn't happen sooner when you see how inexpensive Squamish has been compared to other lower mainland communities," she notes.
For those who bought a few years ago, the boom is a proof that buying a house in BC is never a bad real estate investment. Liane helped a young couple buy into a presale unit last year with a minimum down payment and the value of their house  has gone up in value and even though they have yet to take possession.
People who have seen values increase can cash out and choose to live a mortgage-free life especially if they are moving out of the province. For some it means buying an investment property that they can rent or use the equity in their home to renovate it, she says.
"It gives you the ability and the flexibility to do renovation or invest in another property and if not then just having the security of a home that is valued is a positive thing as well," she says.
Liane says she shared the worry of those who feel the town is increasingly unaffordable or becoming a bedroom community of Vancouver. This is where the local government can play a role in ensuring affordable housing is available for those who are priced out of the market. "We have a supply of high-end single-family detached housing but there the district can work with the developer to create more affordable housing," she says.
Mortgage broker Dal Dhami says the market is indeed tough for first-time home buyers but a robust market is also good news for those who own a home and for those involved in the real estate industry. Business for Dhami in 2015 has increased by as much as 40 per cent compared to the previous years. 
The provincial economy is driven by real estate and a strong market means more work for everyone involved in the real estate. "There are a lot of people benefitting from it—realtors, mortgage brokers, construction workers, lumber mills, local home hardware stores, trades and contractors. And we finally spend and put money back into the economy by buying a new kitchen appliance or eating out at the local restaurants," Dal says.
Dal says high real estate prices in Vancouver isn't the only dynamic driving prices. Squamish has a good buzz and is become a desirable place to buy a home and raise a family. A strong local real estate market reaffirms the faith of those who bought here and have money available now to either buy another property or renovate their home. Squamish has always been undervalued but now it's finally on the radar of people in Vancouver and Lower Mainland, he says. He is aware of the affordability challenges that come with such a boom but says higher density and more supply of housing can provide a solution.