By Kristen McBride
Published: March 29, 2016
Anyone that knows me would say I'm pretty passionate about life, and living it to the fullest. This doesn't mean I'm jumping out of planes or bungee jumping – no thank you! But I live for the experience, I live and I enjoy even the littlest things SO much!!! Even a delicious meal can get me so excited I'm yelling "oh my gosh this is the best pasta EVER!" I just enjoy being enthusiastic about experiences and I'm okay with that. Another important thing I've learned is to surround myself with people that are okay with that enthusiasm, that's who I am, always been this way, probably always will, just ask my parents!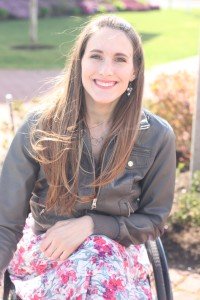 At 20 having been injured in a car accident and broken my neck so now living my life in a wheelchair could have had an impact of how I get a bit more enthusiastic. Maybe I would still be if this had not have happened. But I think there's something to be said about being so truly grateful for each and every experience. I have really learned that gratitude changes everything. Whether it's a stroll in the forest, watching your bulbs start to come up for the first time of the season or even the first hummingbird of the year: I really stop and "smell the roses" so to speak in a very excited way!!!
And perhaps because not all experiences are as easy for me now so when I'm able to zip-line or paddle board or rock climb the Bluffs I am going to be extremely grateful and extremely enthusiastic!!! I've often had people tell me that by experiencing something with me it's like they are experiencing it as if it was their first time. I find that to be such a great compliment. If I wasn't in my situation I would love to take the "can't" out so someone in my situation could have all the experiences someone living in the outdoor recreation capital of the world would want to do.
Life can get so busy and we often get caught up on our phones and with work, I'm right there! It happens to me too. So that's why truly embracing the simplest gifts of life can make it that much more precious. When I see these little moments through my 1 ½ year old nieces eyes and experiences I'm reminded again. I guess in a way I react to situations as an excited child. It may sound silly but it brings me joy and what is better than being filled with joy!
I once had someone say to me: "do you ever think about how other people may feel when you're so enthusiastic?" This person was asking in a way that was saying I make others uncomfortable by being so enthusiastic. The people we surround ourselves should love us for who we all, the entire person that we are. We should not feel that people are judging us by being enthusiastically passionate. This person who asked me that question is no longer in my life. Life is about choices and about being happy.  In the words of my boyfriend, "Do what makes you happy, whatever it is." He has also been a huge help in taking the "can't" out of experiences that may be tricky in a wheelchair.
I guess what I'm hoping you take from this is that I truly believe in living for the moment. Live through the eyes of a child. I'm an Independent Sales Director with Mary Kay and I will never forget Canada's #1 National Sales Director saying: Who you are is great and who you are is good enough. Be true to who you are and don't feel you have to change. Being positive and grateful  is a beautiful thing. Here's to many many more exciting experiences to come. Life is for the living and I'm going to live it!