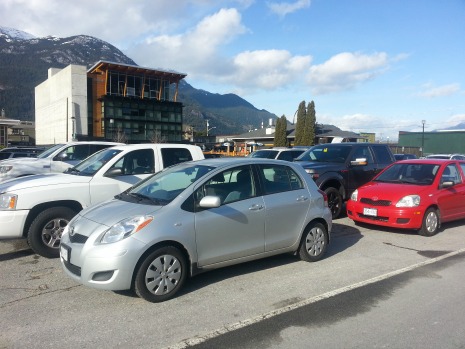 By Gagandeep Ghuman
Published: March 30, 2016
AFTER circling the downtown core for several times, the couple finally found some parking a few blocks away at the Howe Sound Brewing Inn. In their 70s, the senior couple slowly made their way to Chicago Hair Gallery. "One of them walked using canes and it's the first thing they told me: they couldn't find any parking at all," says the owner. Tony Bortolotto.
 It's a complaint Tony and other business owners in downtown Squamish hear more often these days and the furious growth around them makes them anxious about the parking situation in the future. Tony hasn't noticed any drop in business because of the parking situation but fears he might as new residential and commercial developments mushroom in the downtown core.
"We have a condo development going on right behind us and there are more buildings planned here. On a busy day, there is just not enough parking here. All businesses will suffer, if they aren't already," he says.
 From his gift shop, Murray McCorriston sees people circling the Cleveland Ave block in their cars looking for a place to park. When they can't find any parking, they tend to park on spots reserved for handicapped parking. Lack of parking may have driven away business this winter, but what really concerns him is the summer when tourists and locals head to downtown Squamish.
 Murray's worries are shared by Marie-Louise, who owns the Kaos Kids on Cleveland Ave. A large number of her customers are moms and many of them are new moms with babies in tow. At least once a day, she hears from them about the difficulty of finding a parking spot in downtown and these complaints are growing. Marie-Louise worries business might suffer if this trend continues. "There is a lot of easy parking available in malls in other parts of the town and parking hasn't impacted the business yet you can never say it won't in the future," she says.
It's these concerns about parking that led Jane Thomas to write a
letter to the district
. Thomas is the manager of the Squamish Integrated Health, which is located in the Cornerstone building on the intersection of Cleveland and Victoria. The parking problem started when they moved to the new building in 2012 and has only grown worse.
 "Some of our patients are dealing with pain or are older and so sometimes it's not always an option for them to walk to the clinic. I see people get dropped off at the door by another person or they keep driving around till they are close and they can find a spot," she says. What worsens the problem is that the empty lot behind the Cornerstone building is now paid parking, she says. "All of a sudden, the owner started towing people and people weren't aware of that and they would leave their car here and then find out it had been towed. It's happened probably six to eight times and now we have posted a note in the lobby saying not to do that," she says.
Squamish Integrated Health and as many as eight professional offices operate from the Cornerstone building. Today's parking problem around it originated long back in council's good intentions. In 2010, when developer Michael Hutchison brought forward the proposal to develop the building, the district saw it as an opportunity to revitalize the downtown. This commercial building would bring a much-needed boost to the town's economy, provide for jobs and bring more people into the downtown core. But there was only one issue: parking.
 According to the district's zoning bylaw, the proposed building would require as many as 52 parking stalls but the staff was willing to adjust it to 36 parking stalls using Vancouver's standards for variance. At the proponent's request, the staff was willing to reduce the parking provision further to 11 and allow the developer to pay for only 25 stalls at the 1990 rate of $6,000 per stall, based on the 1990 standards.
 "Staff is supportive of the requested parking variance given the reality of trying to develop sites such as this under the current parking regulations. The provision of a total of 52 stalls on a site such as this is unreasonable and unrealistic and without a variance the project is unviable," said a staff report sent to the council in 2010.
 The request for parking variance also found support from the Downtown Business Improvement Association. Writing for the BIA, Susan Chapelle, the owner of Squamish Integrated Health, said it would be "extremely beneficial" to the community to see current parking bylaw relaxed to accommodate future development within the downtown core.
Chapelle said she has also advocated for a parkade for the last three years, adding that she is anxious that as the Oceanfront develops, the amount of traffic driven by tourism and industry will be unplanned for. 
"Parking doesn't pay for itself, and the expense to the taxpayer to supplement a parking space is enormous. Pay parking is not yet supported, but valuing our municipal land and saving to pay for a future structure may become a necessity. We need to have a long term plan and set land aside for centralized parking. Maybe its not in the downtown, but has access to transit. I am anxious that as the oceanfront is developed, the amount of traffic driven by tourism and industry will be unplanned for" Susan Chapelle. 
Everyone in the council giving the variance to Cornerstone except Coun. Corinne Lonsdale. She said it was unfair to adjust the parking ratio to Vancouver standards as Squamish lacks the transit network of the city. She also wondered why the cash-in-lieu payments were not in line with Vancouver, where the city can easily charge $20,000 or more for cash in lieu of parking.
She asked that the developer pay at least $10,000 per stall but that motion was defeated by the council. Lonsdale said downtown parking was likely her biggest frustration during the last six or seven years of council.
Lonsdale says people have a lot of options to go for a walk in Squamish but that is not what they have in mind when they are trying to run an errand in downtown Squamish. "I did not support the development permit for the Cornerstone Building. I argued vehemently that the developer needed to provide parking. It is ridiculous that doctors would locate in a building with no parking on site for patients. But Council were convinced. Great building but I still hear lots of complaints," she says.
 Lonsdale says she believed developers should provide the parking and see it as a responsibility to provide for both the staff and their customer. It's what most other communities in the province do and it's important for council to remember it was the community that voted them in, not the developer. "I think it's unfortunate that at times the majority of council seems to forget it is the existing community that elected them to look after their interests. In recent years that thought seems to be lost and we bend over backwards for the developer," she says.
"In my opinion, the planning department was not in touch with reality when they said there was ample parking in the downtown and Council seemed happy to go along with the bad advice. The dept. head said there was ample parking and people just needed to get out of their vehicles and walk a block or so. What the planning department and Council could not seem to get through their heads is people in Squamish will not walk a block to shop…particularly if they have a choice and in Squamish we are fortunate to have choices," Corinne Lonsdale.
The council and district have long believed that there is surplus parking downtown, so much so that Squamish offered to provide a parking incentives to developers as part of a downtown revitalisation plan. The parking incentive bylaw, if passed, will enable commercial development without the developer having to provide for any parking. The approval of this bylaw will also mean developers won't have to pay money in lieu of parking. Outside the downtown incentive zone, the district also plans to reduce the payments in lieu of parking from $6,000 to $4,000.
In 2013, the district estimated there was a surplus of 760 parking stalls in downtown Squamish, enough to provide parking even with a zero-parking incentive. This incentive would also lead to a more healthy community, the district believed. "Reducing parking requirements in downtown shifts the focus from car-centric development to an emphasis on walking, biking and transit," it said.
It seems there has been some lack of foresight and sensitivity to parking needs. Now that we know less parking in the beginning may become a major problem a few years later, we must start with ample parking. Developer Hutchsion failed to reply when asked if he planned sufficient parking on Oceanfront lands where new development will come up. 
When Bianca Peters of the BIA met Gary Buxton, the GM of public works and development services, he maintained there was no parking issue in downtown Squamish and asked for a proof. The result was a
BIA survey
, in which as many as 69 per cent of respondents believe there is a significant parking problem downtown.    
"The trouble spots are the new developments such as the Cornerstone building which lack even handicapped parking. I believe from what I'm hearing, there is underground parking but it's not enough even for the staff that is working there," Bianca says. 
There is a lot of thoughtful insight in the survey and the district has agreed to sit down with the BIA to talk about the parking issue, Bianca says. "Originally, we were told there was no parking problem, and so that is what spurred the survey and now that we have this information…they are sitting down with us. We want to work with the district. I got an email from Gary and we will coordinate the time, and definitely sit down and coordinate the parking strategy," she said.
While district debates if there is or there isn't a parking problem in downtown Squamish, a 16-year old plan anticipated the problem and called for money to be put away for a centralized parkade. The plan called for the council to provide such a parkade in the next five years but the district failed to buy land for such a structure. As of now, the council has a parking reserve fund with $363,700 but hasn't bought any property to create such a parkade. With empty lots being snapped up by a booming real estate market, that seems like an ever-diminishing possibility. However, the district is working on developing a parking strategy which will be brought to the council soon.
"The District is in the process of developing a parking strategy which, once developed and approved by Council, will shed light on how the District will address future parking Downtown. The District currently owns properties next to the Copper Coil and between 38174 and 38180 on Cleveland that are used today as surface parking, as well as provides and maintains all on-street parking," the district said.
The need for parking has been an ongoing concern for the district and it led to a parking committee in the 80s, said former Mayor and Councillor Corinne Lonsdale. She said it was that committee which called for a parking commission and a parking reserve fund. In the 1990s, a downtown revitalisation project also led to the creation of a small parking lot on Cleveland Ave, across from Husky gas station.
 In 2010, the district used a $520,000 Towns for
Tomorrow
grant to purchase the Parkside restaurant (now Copper Coil) which came with a small parking lot. One intention at that time was to use the space for a Pavilion on the south end of the Park. "This space allows us flexibility in realizing the potential long-term benefits of Block 19 and, in the short-term, will enhance the district's ability to optimally locate the O'Siem Pavilion here," the then Mayor Greg Gardner was quoted in the Squamish Chief.
Lonsdale says the district needs a central parkade downtown, especially for the employees who could use the space to park and free up space along Cleveland Ave and Second Ave for public parking. "There are ways for the development community to fund that parkade over time. The fund would not have enough in it to build the parkade. I do believe the District could build it in phases with developers and downtown business participation. If the downtown businesses are concerned with lack of parking they should agree to create a specified area that would be similar in location to the BIA specified area," she said.
 A parkade downtown may be the ideal solution, according to Dr. Laurie Vanzella, who runs a dental clinic right next to the Cornerstone building on Cleveland Ave. In a
letter
he recently wrote to the district, Dr. Vanzella highlighted the 'huge parking problem' that has developed on Cleveland Ave and the nearby streets.
"The situation has been made even worse since the lot formerly owned by the Chieftain Hotel on the corner of Victoria and Second Avenue became off limits and unauthorized parked cars are now being towed. Our senior patients, in particular, are finding the situation difficult. Many have walking issues and parking blocks away is not an option. To complicate matters, the two-hour parking limit is apparently being enforced. We have patients that are in our office for three to four hours and are not able to leave to move their car," he wrote.
 Vanzella said the mandate of the council has been to 'revitalize' the downtown core but that won't be possible if decent parking isn't provided. "At this time, it seems that the frustration of patients, staff and probably customers, is nearing that point. I have been told by the past mayor that a parkade is planned and to be built at some time in the future. There are not many other options and as our downtown area planning encourages expansion, I would hope council will make this a reality in the near future."
 Every year, hundreds of tourists visit Squamish to get a glimpse of the eagles and the stunning mountain scenery at the Eagle View dike—but the pot-holed parking lot doesn't make us look like we are hardwired for adventure. With nowhere to park on a busy day, tourists and locals are forced to park their cars along the road, increasing the risk of an accident on a curved road.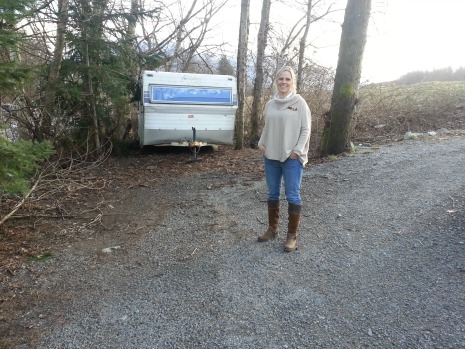 Brandi Wilmot needs no surveys to prove to the district there is a parking problem on Government Road, where she runs the Watershed Restaurant on the Squamish River dike. On a sunny day during Eagle Watching season, the road is jam-packed with vehicles all lined up along the road due to lack of parking. 
Three years ago, she wrote to the district and asked if they would work with her in expanding the space for parking lot on her property. She paid to get the trees assessed and offered to remove the clump of trees on the west side of the property if the district was willing to work with her on costs and part with some district land to create the parking lot. Once the parking lot was complete, both the patrons and the district could use it and additional cost would be paid by her business. She offered to pay close to $5,000 to pitch in, acknowledged that both the patrons and tourists could use the parking lot and yet she did not hear back from the district.
"The parking situation is not only scarce, but also dangerous for patrons and Eagle watchers alike. With one crosswalk located on a dangerous bend in the road and a gravel parking lot that has seen better days, this situation needs to be resolved immediately." 
About four years ago, the council asked staff to work on safety issues on the gravel parking lot across from the Eagle Viewing area. The council also asked staff to consider paving and lining to improve parking capacity and safety in the 2013 capital budget. Nothing has been done so far.
This attitude may not be helpful in downtown Squamish where as many as 16 empty lots have been sold in the last one year and major commercial and residential developments are being planned in the near future. One among these savvy entrepreneurs is James King who has applied to the district for an extremely interesting live-play-work building that aligns with the outdoor recreation vision of Squamish. It has yet to be approved by the district but what James and his partners are proposing is a mixed-use commercial and residential building on Loggers Lane.     
"It's the live-work play idea and those could be two-bedrooms or two offices or could be eventually a three bedroom or one office if the family needed. The idea is that the space can grow with you. The whole purpose is to create a space where people can balance their lifestyle and their work and their real organic healthy place to live," he said.
But the project would require a parking variance as it won't be able to provide the parking required by the bylaws. The company is proposing a car co-op initiative and hopes to work with the district on parking. Nitro Snowboards, a Vancouver-based company. has already expressed interest in this mixed use work/live/play space.
The Loggers' Lane development is just one small example of the tremendous interest that Squamish has generated in the development community in the province. As the town grows, there will be more commercial and residential developments planned for downtown Squamish. We need to realise that it may seem there is a perception of a parking problem but it won't take time before it gets damaging.