By Gagandeep Ghuman
Published: April 28, 2016
A PIONEER South Asian woman, Swaran Kaur Biln, passed away after a brief illness on April 7 in North Vancouver, just 22 days short of her 90th birthday. She was the last of the Sangha family, predeceased by her parents, her three brothers and four sisters, and her son Kulwant Singh Biln. She is survived by her husband of over 75 years, Gurdev Singh, daughters Jessie Mann (Rajindra), Kallie Biln, son Jaswant Singh Biln (Marion) and 10 grandchildren and 15 great grandchildren.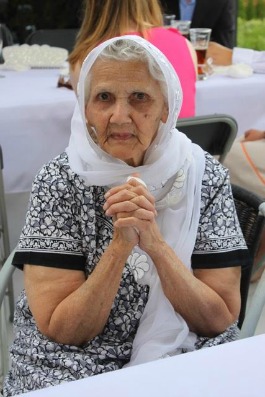 She was married to Gurdev Singh Biln, popular as Dave Biln, and the couple were one of the first Sikh families to make Squamish their home. The Bilns lived in faraway places such as Lahore (now in Pakistan) and Fiji Islands before they migrated to Canada in 1959.  
The couple lived in several towns in the Cariboo where Swaran Kaur looked after her four children while her husband went away for days or weeks for work. She was one of the very few women living at various mill towns in the Cariboo and was the first South Asian woman in Squamish.
"She was a strong, brave, independent woman and managed to navigate through day-to-day life with confidence. She didn't speak, read or write English but learned to speak through daily contact with sales people. She taught herself the alphabet and learned to read English through sales flyers from the various stores in the area," says her son, Singh Biln.
It was in 1963 that the Bilns moved to Squamish when Biln found work at the Canadian Colleries sawmill in Squamish. Recalling an early incident, her daughter Kellie says that a few days after the coupled moved to town, Biln had to leave to fight a forest fire near Pemberton. Swaran Kaur was left all alone in a new town with no groceries and little money. "The true welcoming nature of this community quickly became apparent as established neighbors like the Armstrongs, Wilsons, Hurrens and Butterworths brought her groceries, furniture and even toys for her son. She knew then that Squamish would be her home for a long time," says Kellie.
Swaran Kaur was the first South Asian woman in the community as most South Asian men in Squamish worked at the mill but had their families in the Lower Mainland or India. She assisted many new immigrant families to get settled in Squamish during the 1960's and 1970's, housing them in her home as there was very little property for rent or sale. "She led the way for many others that followed and opened her home and her heart to all. She enjoyed a full house and there was always someone living in the family home," says her son, Singh Biln. He says she used her local knowledge to help many South Asian women secure starter home and would help them with furnishings and clothing. He says his mom saw the humanity in people, not the colour of their skin. He remembers she would be quite welcoming of all his friends irrespective of their race and she enjoyed talking to people she met through the course of her day. 
By the 1980's, Swaran Kaur and her husband had achieved their goal of ensuring a future for their children as daughter Jessie became a successful developer with her husband, son Jaswant Singh became an electrical engineer and manager at the railway, daughter Kellie a teacher in New Westminster and son Kalwant Singh (Bill) a successful real estate agent with his own company. 
Swaran Kaur loved children and didn't hesitate in giving her time to help other women, be it in our home or in the community, says her granddaughter, Ruby Bir. "This is one thing that really stands out for me that she was willing to help anyone and was always willing to do things for others," she says.
Her daughter Kellie says nothing pleased her mother more than entertaining guests and preparing a lavish meal for those who visited. 
Swaran Kaur loved gardening and her hanging baskets were the envy of many. "She found solace in her garden. This was a way to get her active again and she enjoyed socializing with her many customers. An environmental advocate, she reused, reduced, recycled long before mainstream awareness. She enjoyed giving, whether it was her time, her support, her treasured items, or cash. If anyone admired any item in her home, she would give it on the spot, even if it were her most cherished belonging," says Kellie.